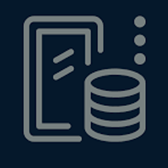 Whether it's brick and mortar casinos – or the newly emerging (legal) online gambling apps and sports books that intrigue you – would you consider yourself a gaming fanatic? If so, are you at least a tad bit worried about the security of it all? And if it's not security that bothers you, maybe it's the fact that payouts sometimes take to long? Or perhaps the fees and charges that are often associated with withdrawing your own money are what get you frustrated? Either way, an answer is on the horizon…
Blockchain technology has started a reformation in the casino, gambling, online gaming and sportsbetting industries. In fact, decentralized betting is just now becoming more cost-efficient than using legacy systems – and it's safer, too. Why is this, you ask? It all comes down to the blockchain, which offers enhanced security (private and financial), transparency, increased transaction speeds, and most importantly, decreased transaction costs across the board (for businesses and consumers alike).
The advancement and extension of blockchain technology into the gaming industry has triggered new opportunities for gamblers. In sports betting, specifically, the blockchain provides substantially more flexibility and freedom. For more on the advantages of using blockchain technology in the gambling and sports betting industries, check out this infographic – compliments of Karthik from Mrbet.me.uk.