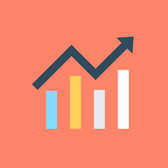 Cloud analytics are invaluable for B2B companies. With the power of data, business is suddenly scalable to any level, making the use and application of analytics a necessity for any enterprise. But how can IT departments best manage large data sets for greater success?
For effective data management, B2B companies must apply a series of best practices. These range from the initial setup to the assessment and stabilization process throughout the life of a data management approach.
Your B2B enterprise can maximize the effectiveness of cloud analytics at every step. Here's what you should know.
1. Setting up for Success
The right way to approach data analytics starts with building a setup for safe and comprehensive storage and data hosting. Whether your business provides or uses software as a service (SaaS), the strategic implementation of a software platform can be a determining factor for how well you apply data.
Deciding on an approach requires an understanding of the market as well as trends in enterprise software development. With everything from augmented reality (AR) to blockchain systems making waves in tech, you need to build a data approach that matches and scales with your enterprise.
SaaS offerings can be immensely helpful in achieving these results. With software for virtually every business model on the market, there is a good chance you will be able to find an application that will make a difference in your operations from the ground up. Set your goals and devise a comprehensive list of needed data uses before exploring what there is to offer.
The fleet management industry, for example, benefits from SaaS that provides insights like driver performance data, vehicle location information, and more, all operating from a cloud network. This means real-time information that improves the decision-making ability of a business at every turn—in this case, literally.
With performance metrics on hand, enterprises can enjoy benefits like:
Reduced costs of operation
Higher return on investment (ROI)
Safer business practices
Saved time and labor
This level of awareness is possible, but it will take a comprehensive platform to host and manage all your data in an understandable manner. Luckily, B2B companies can outsource this task through SaaS or build their own digital environment. Just keep in mind that your tools should grow with your enterprise.
2. Scaling the Data
With 70.1% of organizations relying on cloud-based analytics for business practices, businesses have to learn how to scale data applications to outperform the competition. The right cloud system will make this possible, allowing for storage flexibility and security with greater control options.
As your enterprise grows, you need to consistently keep up with and manage sales happening all over the world. At the same time, social media and client interaction will increase. Scaling your data allows your business to maintain awareness and engagement with this information as it is fed to the system.
Luckily, artificial intelligence is helping to make this possible. With machine learning and smart analytics, your data can be automatically tracked and updated into readable charts that isolate and report important metrics. This allows your team to dive deeper for actionable insights at any level.
With the increase in remote work options during the COVID-19 pandemic, for example, businesses with the right data approach have tracked performance metrics across locations and team collaboration platforms. Listing these performance metrics by department, individual, and overall goal has helped focus tasks and streamline management, effectively allowing enterprises to grow.
With business intelligence not limited by the information you're tracking, you can make data-driven decisions no matter the size and scale of your enterprise. However, this data should be frequently assessed for efficiency.
3. Assessing the Results
In the push for quantifiable data, customer experience is often neglected. The right cloud analytics approach considers customer experience alongside all other metrics, providing convenient and helpful methods of engaging with customers at the same time.
This is where it comes in handy to compare your chosen data platform to secondary reports you're getting from social media and search engine analytics. Ensure your data is being consolidated accurately, then assess the overall client experience with customers directly.
AI chatbots can be vital to the way you scale your customer service experience. However, you can't use data gathered from these interactions as your only record of customer needs and experiences. Customers expect memorable content, and without a commitment to re-assessing your overall performance through direct customer engagement, you run the risk of compromising quality.
Final Takeaway
Data is an immeasurably beneficial tool for growing enterprises. With all kinds of insights able to be tracked and applied to data-driven decision making, the use of cloud analytics for B2B companies means higher returns and reduced costs. However, such an approach has to be able to scale with the business.
Luckily, software is out there that can make it easy for any B2B enterprise to set up, scale, and re-assess their analytics approach for the best results. Businesses can start by examining their own analytics processes now.