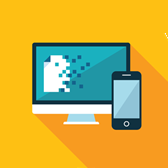 According to Albert Einstein, "The measure of intelligence is the ability to change." From education to healthcare, from finance to customer management, there is no industry that hasn't evolved. Today, every sector welcomes innovation that brings change in the status quo.
The same can be said for software development trends. From blockchain and cryptocurrency to new advancements in AI and ML, many new initiatives have influenced change in the global economy. However, it can be difficult to keep up with the latest trends in software development because the technology changes so rapidly. In order to maintain a competitive advantage, you must be sure to follow the latest trends in the IT industry.
In order to help with this, here are the top trends in software development to follow in 2020. Let's explore them in detail.
Augmented Reality
AR has achieved tremendous growth over the years due to its integration in smartphones. Companies are now investing more in their AR applications and hiring AR developers in large numbers. The best example of this is Google. People do not consider the scope of AR beyond gaming and entertainment. But, unlike VR, AR apps do not need hardware equipped with the latest technology.
Because of this, people have started to shift towards AR. In fact, Augmented Reality has generated $16.8 billion US dollars in 2019, and that number continues to grow. In addition, a new form of augmented intelligence, Augmented Analytics, has arrived. The purpose of augmented analytics is to enhance human knowledge, using the advanced features of AI and ML. It will soon become a key feature of data science and business process management.
Artificial Intelligence
The subsets of AI, like ML and deep learning, are steadily gaining popularity. From learning cognitive functions like learning and analyzing information, to understanding human emotions and solving challenging tasks, AI is becoming more prevalent in the global market. Whether it's healthcare, education, or the banking industry, AI yields profit across almost all industries.
Therefore, the market is rapidly shifting to an approach where the developers can work efficiently using AI-driven models. AI is also now being applied to the development process to automate the development and testing functions. It is predicted that AI will double the growth rate by 2035.
Autonomous Things
Autonomous things like robots, drones, and vehicles have started to arrive on the market. They use the latest advancements of AI and ML to work without human guidance. Autonomous things are increasing, and industry experts expect to see a shift from stand-alone intelligent things to more intellectual objects.
Autonomous vehicles have already created an impact on the automobile market. It is expected that the autonomous vehicle sector will increase 76.09% by the end of 2033. In addition, drones have started catering to the needs of delivery systems very efficiently. It's safe to say we can anticipate a significant rise in the autonomous sector.
Motion UI
With its interactive designs, amazing animations, and dynamic graphics, Motion UI makes the list of trends to watch in 2020. It uses various tools and techniques to communicate visually with the user. Animation in website development is an essential aspect as it helps to convey the ideas of the organization.
Motion UI, a sustainable library, offers seamless transitions and animation on the user interface. It is gaining popularity because of it's easy to use functionality that allows developers to animate content, even without having a solid knowledge of JavaScript or jQuery library.
Quantum Computing
Quantum computing differs from traditional computing, as it relies on the principles of quantum theory. It operates on the quantum principles and represents information through quantum bits (qubits). With parallel execution and exponential scalability, quantum computing can solve large and complex problems quickly.
Having such extensible features, quantum computing can be used in many industries such as automotive, pharmaceutical, military, and even in research. It also has the potential to solve security threats, strengthening security in the IT world in the coming years.
Smart Spaces
Physical locations or digital environments that facilitate human-system interactions are called smart spaces. In these spaces, technology is grouped in such a way that makes human interactions easier and more productive. It includes multiple elements such as people, processes, and services to create an interactive automated environment.
This trend is gaining quite a lot popularity as we've seen in projects like smart cities, digital workplaces, and connected industries. This intelligent platform, connecting various IoT devices, will undoubtedly transform the home and workplace in the coming years.
Progressive Web Apps
Progressive Web Apps are still trending, and therefore are on the list of 2020's hottest web trends. PWAs are a modern technology that uses the latest web capabilities to deliver a perfect app-like experience to the user. These web pages offer instant loading, aesthetic design, and user-friendly functionalities. They are designed using progressive enhancements that strongly emphasize on core web content.
PWAs ensure an instant and reliable experience for the user without cache issues. They are extremely user-friendly, easily installable, and hassle-free, which makes them suitable for existing technologies. Plus, PWAs are safe, can be shared via URL, and can re-engage the users via web push notifications.
Cloud-based Enterprises
Cloud-based apps are continuing to grow and it is expected that they will reach $150 billion at the end of 2020. Today almost all software firms that provide different solutions to their clients, offer this capability. Cloud-computing, besides providing data security, can provide business agility to firms using AI-based apps.
Nowadays, many companies are shifting towards multi-cloud/distributive cloud technology. The distributed cloud service allows distribution of public cloud to different locations, while keeping all the functionality within the original provider. Because of this, public cloud services will continue to dominate.
Edge Computing
Edge computing is somewhat different from traditional computing methods. It is a method of processing the data where it originated, rather than using a centralized data-processing warehouse. It aims to keep the traffic and processing local, reducing latency and enabling greater autonomy.
The chances of seeing this technology in the coming years are high. With providing faster speed and prioritizing traffic, this technology will surely boost the future market. Complex edge devices such as autonomous vehicles, drones, and robots will help to accelerate this shift.
Personalized Solutions
According to the latest reports, many people are looking for more personalized solutions that serve their needs. These software solutions are designed with the specifics of the industry in mind. Today, many software firms deliver personalized solutions that are developed to cater to the needs of that specific industry. These apps further support the needs of the clients and are more useful than more generic software solutions.
These software solutions are trending due to lower costs and more control over the apps.  Personalized solutions also reduce the effort and cost to maintain IT resources to maintain the current applications.
Cybersecurity
According to a latest research, it is estimated that the cybersecurity market will grow to $300 billion by the end of 2024. Clearly, the trend for increasing security is still a matter of concern. Even cloud-based solutions have risks of data leakage. This is the reason for increased government regulations on consumer awareness.
With the ever-growing digital era, cybersecurity is still a major concern for software firms. Many steps have been taken to address security issues, including third party verification, external testing of your apps, etc.
Blockchain
Blockchain is, undeniably, an ingenious invention. By allowing the distribution of digital information, blockchain technology has created the backbone of new type of internet. Whether it is finance, medical, government organization, or even supply chain, this technology has greatly reduced business friction.
Blockchain Technology offers many advantages such as reduced costs, reduced transaction settlement time, increase in cash flow, and so on. In addition, many security issues related to IoT devices are solved by blockchain technology. With these great features, blockchain will definitely transform industries by enabling trust and transparency in the system.
Final Takeaway
The web development sector is doing great in terms of bringing new and innovative technologies to the global market. New frameworks, mobile web app developments, and unique designs are continuously coming forth to satisfy the constant demands of humanity. These technological trends can significantly impact the overall productivity of your organization. They can surely increase flexibility and decrease the total operational costs, bringing increased profitability to your company.