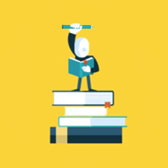 Powerful leaders possess a combination of soft skills. These skills make it easier to inspire and interact with team members. And as you grow further in your career, developing these soft skills becomes essential!
Importance of Soft Skills in Leadership
Soft skills constitute almost half of our everyday interactions at the workplace. You might or might not be aware, but the truth remains that soft skills are important for maintaining a powerful leadership presence.
From effective communication among team members to taking concrete decisions about daily processes – all of this requires soft skills. In fact, successful leadership incorporates a strong sense of these skills for leaders to motivate their team.
Strategising, listening and involving the team's ideas require heavy usage of soft skills, and hence, it's safe to say that investing in soft skills training is now crucial for further growth!
10 Key Soft Skills Every Leader Should Possess!
Becoming an ideal leader for your team's growth is every leader's dream! And did you know that these soft skills might be your key to successful leadership?
Let's look at all the necessary soft skills you:
Communication
Great leadership relies on effective verbal & non-verbal communication. Leaders are expected to be active listeners that are open to feedback and actively accept their teammates' opinions. You need to possess the ability to conduct healthy discussions and good body language.
In fact, a productive and efficient workplace requires open & effective communication between the teammates and the leader. So, a successful leader has active listening skills on the top of their list!
Teamwork
Leadership consists majorly of team collaborations. One classic sign of a great leader is leading their team to collaborate, contribute and help the teammates achieve success further. Hence, to be a great leader, you need to be a team player. You've to listen to what your members have to say and make the team work efficiently with each other.
Problem Solving and Analytical
Leading a team is all about analysing processes. You need to have strong analytic skills to make decisions and predict the outcomes. Moreover, as the responsibilities grow, solving problems becomes a major part of a leader.
Being prepared to solve various problems and develop creative solutions is a highly desirable trait. You'll be responsible for reducing issues, applying strategies to meet goals, and eliminating risks.
Decision Making
A strong leader can make even the most difficult decisions for the company's profit. Being able to compare the advantages with the disadvantages, project outcomes and take effective decisions based on looking over all factors is an essential requirement of any leader.
Conflict Resolution
You need to be great at resolving issues if you're a leader. You need to actively listen to the team, conduct an honest feedback session and be utterly impartial to everyone's viewpoints.
Moreover, you should possess the ability to calm heightened emotions to maintain the equilibrium of the workplace.
Compassion and Empathy
Every great leader possesses compassion, patience, tolerance, and empathy in abundance! You need to understand that everyone makes mistakes, and as a leader, you need to be compassionate enough not to let that affect their growth.
You're supposed to empathise with them and approach your team with kindness and patience. Additionally, show your vulnerability so that you seem more approachable and relatable.
Confidence
A healthy amount of confidence embraces the ability to accept mistakes, improve and be aware of one's strengths and weaknesses. You've to be open to understanding values and improvements.
Honesty and Integrity
The staples of great leadership – leaders with transparency in communication have a healthier relationship with their team members. This promotes trust and maintains morality.
Being consistent in your values, actions, principles, and methods also indicates ethics and builds trust between you and your team members.
Allocating Tasks
Being able to delegate tasks by defining the project's parameters and directing your team towards the goal requirements is a daily job for every leader at a workplace. Moreover, you need to efficiently allocate tasks to members based on your knowledge of how well they can handle the challenges.
Flexibility
Since the overall competition to stay ahead in the game has increased, change is only constant! Leaders need to see it as a chance to improve and learn. You've to motivate the team to accept changes positively and be open to challenges.
And this competitive edge is one of the many reasons agile working is popular!
Conclusion
These in-demand soft skills make a leader strong and unforgettable! Work towards developing these skills and grow into the ideal leader you always wanted to be.
Author Bio
Suman Agarwal is an award-winning image management professional. She has helped students, home-makers, women on sabbatical as well as people seeking second career alternatives to explore Image Management and Soft Skill Training as a vibrant professional choice. She frequently writes blog posts about the urgent need of image consulting professionals and soft skill trainers in the 21st century and loves guiding people in exploring lucrative career options. Write to her at sumanagarwal@imageconsultinginstitute.com to seek advanced career guidance.