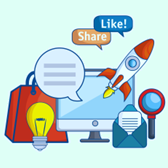 It's the select few among us that are gifted with a marketing flair, and in today's economy, establishing your business and pushing it to become successful is perhaps the greatest achievements. And we all know the hottest industry: tech, of course!
With technological developments on the rise and a well-held global interest in the tech industry, tech businesses are blooming. But with heavy competition, even tech businesses must work towards building and establishing their brand – in other words, you need to bring your A-game when it comes to branding your company.
Now if you're new to company branding and marketing, then this can seem like a daunting task, but my branding tips are here to save the day!
Here's how to create your winning tech brand:
Design a Logo to Remember
If there's anything that defines a company's identity, it's the company logo. Made well, it will work on its own to propel your brand image across industries and markets – whether that's plastered on billboards, flyers, TV advertisements, or even merch.
And while a logo is about getting the aesthetics right, it's also about conveying a deeper message about your tech brand, whether you're an established company or a startup. Think about what certain shapes, colors, and patterns convey, and try to incorporate the essence of what your company stands for into your logo design.
Luckily for you, this is now easier than ever with PosterMyWall's many tech logo designs, just waiting ready for you to browse through. With hundreds of logo designs available, you can choose one that resonates with your company's image, and the best part is that you can easily customize any design that you like, bringing it one step closer to feeling like your company! Oh, and you can do all this for free!
Use Flyers to Sell!
Believe it or not, technology hasn't completely taken over our world, yet! Despite the onslaught of digital marketing strategies, people still love to hold a piece of paper in their hands, taking in information about their favorite brands. Yes, I'm talking about flyers and the world of wonder that they can bring to your business!
Use flyers to market your services or new products, announce events that you're holding, or even just promotional content to spread the word about your company. And of course, the success of a flyer is all in the design – if it's appealing to the eye, it'll stay in mind, helping your tech company reach new heights.
Now making flyers is easier than ever with PosterMyWall's flyer maker. Simply browse through a never-ending list of flyer templates, selecting ones that best fit your brand. Once you've got the design, you can easily customize it to make it just right for your company – and all this without spending a single dime! And the best part is that PosterMyWall caters to all businesses, so if you're a new startup then they've got a full range of small business flyers for you to check out.
Try Your Hand at Posters
Speaking of pieces of promotional paper, it's not just flyers that make the marketing cut – posters are equally important! Not only are they great for highlighting your brand at events or in places of public gathering such as cafes, recreational centers, or even offices, but they're also able to convey an important message by combining visuals and text.
And if you're not skilled at design, then PosterMyWall has got your back with its online poster maker feature. Choose from dozens of free templates and customize them to your heart's desire until the design looks just right.
Of course, once the design's down, it's all about where you put your posters up. The best thing is to look for places with heavy footfall as this will help boost the visibility of your poster within a new crowd each passing hour. And of course, the online world still awaits – digital marketing has enabled brands to reach across continents.
Stunning Instagram Posts
While traditional marketing holds its own, there's no doubt that in today's world all businesses need to have a digital presence. And what better digital avenue to explore than the world's largest image-sharing app? Yes, Instagram's the one!
Build your optimized Instagram profile and populate it with stunning posts that captivate users, wanting them to deep dive into your brand and explore. Create posts about updates in your business, collaborations that you're a part of, and even to engage with your customer base.
And if you're worried about not getting the aesthetics right then PosterMyWall's Instagram post templates are just what you need! Dozens of ready-made Instagram posts just waiting for you to choose from, all easily customizable so you can achieve your brand's desired look. And the best part is that PosterMyWall's easy-to-use interface makes editing a breeze, and that too all for free!
So, if you're a tech company or tech startup looking to cement yourself in the industry and grow in legions, then branding is the way to go. And this guide to branding your tech company is all you need to start tasting the flavor of success – why it's tried and tested!