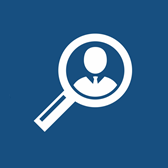 When it comes to hiring the best candidates for your company, you'll need to do more than perform a simple background check. While a criminal background check can give you insight into certain applicants, it shouldn't be the only information you use for your screening policy.
Why Do You Need a Screening Policy for Your Company?
When it comes to screening for your company, it is essential to use best practices. Without doing so, you can open your company up to legal risks such as violations of the federal Fair Credit Reporting Act. Background checks are typically the last step of the hiring process once an employer has already decided that the candidate is an individual they'd like to hire. Mistakes in the background check process can cause a delays in hiring and jeopardize a potentially important relationship in it's early stages.
Shareable for Hires sums it up best in their infographic about creating a screening policy.
Essentially, an effective screening process reduces the company's liability by helping it avoid costly lawsuits, reduces operating costs by hiring the right candidates quickly, and reduces hiring risks such as money losses from hiring the wrong employees.
Consider hiring someone to handle your finances without doing a background check of any kind. You never know if this person has been convicted for fraud or has a history of losing money for employers.
It's important to note that while a criminal background check can give you insight into your candidates' character, it should not be used to pass judgment on people who have made mistakes and have learned from them. It's always better to look at the whole picture and allow the candidate to discuss their past themselves.
Best Practices for Creating an Effective Screening Policy
Make it Company-Wide
Your screening process should be a company-wide policy, even when it comes to executive management. High-level executives who have lied on their resumes could damage your company's reputation. Not to mention, no matter how much experience a candidate may have, hiring a candidate who doesn't mesh well with the team can ruin morale.
Ensuring that the people you hire have the right qualifications, including leadership and people skills, can save you time and effort while preserving your company culture.
These policies can be role-specific. When hiring someone who handles your finances, you may require an employment credit check, criminal record check, and education check. However, a credit check may not be necessary for an employee hired as an administrative assistant who won't be dealing with money or financial information.
You can also determine which jobs, if any, are exempt from background checks. While it's recommended to run at least a criminal background check for all job roles, it's not necessary. If you run a large business with many low-level employees, you can choose which jobs don't need any employment screening.
Consider Consistency
Pre-employment background checks should be consistent. Most lawsuits will stem from a lack of consistency when applying HR policies. Inconsistent enforcement, even when it comes to background screening, can open your company up to discrimination charges.
Set up guidelines for your screenings for the different employee levels. Make sure your process is consistent across all candidates within these levels. Candidates applying for the same job should undergo the same screenings.
Screening all candidates according to your policy can ensure that you're treating all of them fairly.
Determine Disqualification Criteria
You should assess your candidates against an appropriate set of criteria, including what information can disqualify them. For example, you might not legally be able to hire someone with a recent DUI if the position they're applying for requires them to drive for the company.
Always consider the nature of the crime committed. Many crimes are non-violent and have nothing to do with theft. Also, make sure that you understand which types of background check information can affect your business. While someone who was convicted as a youth might not pose a threat to your business as an adult, someone who has been convicted of stealing from their employer can. Take a look at when the crime was committed. Crimes that were committed more than five years ago are unlikely to occur again, especially if your candidate has a good employment history.
You should adjust your screening process to determine criteria that can disqualify a candidate from getting the job and avoid creating blanket policies that can prevent you from hiring the best candidates for each position.
Ensure Compliance
Always incorporate compliance with federal, state, and local laws into your employment screening policy. When hiring employees, any background checks conducted should be in compliance with the federal Fair Credit Reporting Act (FCRA). This Act requires all employers to get content before running background checks and outlines the specific steps employers must follow if background checks affect the final hiring decision. If you're not sure about the law, check with an HR attorney or specialist before developing your screening process.
Determine Who Will Handle Employment Screening
If you have an HR department, then you probably already have a system in place for employment screening. However, suppose you have a single HR person or don't have anyone that works in human resources at all because you own a small business. In that case, you might want to consider finding someone within your company who can handle the extra task. Someone like an administrative assistant would be a great person to handle the duties of employment screening.
Wrapping Up: Finding the Right Screening Company
Once you have thoroughly defined your employment screening process, you'll need to find the right screening partner to work with. You can choose to work with a traditional screening company or an online screening service provider. A traditional screening company is ideal for larger companies that have specific screening needs and multiple types of job levels that are subject to different requirements.
An online screening service provider is a great, affordable option for small businesses who need to run their employment background checks quickly and efficiently. With an effective screening policy in place, you'll have peace of mind knowing you built the best team.
Author Bio:
Matt Casadona has a Bachelor of Science in Business Administration, with a concentration in Marketing and a minor in Psychology. He is currently a contributing editor for 365 Business Tips. Matt is passionate about marketing and business strategy and enjoys the San Diego life, traveling and music.