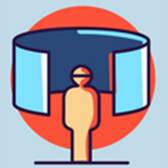 Businesses that acknowledge Virtual reality (VR) as a game-changer are more poised to grow and proliferate in the current marketplace. This technology presents opportunities to reimagine processes and boost efficiency and resilience. Making key investments in VR/Augmented reality (AR) needs to be a part of any organization's overall business strategy to unlock competitive advantages. It uses digital hardware and software to create high-end simulated experiences and provide a real-world experience. VR carries real business value and deploying it strategically can result in a measurable ROI.
How Can Virtual Reality be Used in an Organization?
Organizations are embracing opportunities created by VR technology. VR is surfacing as a powerful tool across many industries, including entertainment, healthcare, and tourism. It allows companies to evolve the digital properties and implement the power of 3D to facilitate an immersive experience.
Virtual reality technology enables "the effect of immersion in a computer-generated, three-dimensional, and interactive environment in which virtual objects have a spatial presence." Within simulated environments, VR can foster human cognitive functions, making it easier for the user to focus attention, acquire, and process information. It is a unique and transformative platform that enables organizations to disrupt how they use, process, and communicate information.
VR solutions allow businesses to craft user experience through simulations in a cost-effective and risk-free manner. The arrival of affordable, consumer-friendly headsets is prompting businesses to make optimum use of the opportunity to amplify their brand experience. It helps add value to the customer purchasing decisions by enabling them to make well-informed buying decisions. It is changing the face of consumer-brand interaction, helping businesses to strengthen customer relationships.
Not only this, VR enables faster collaboration between parties involved and promotes efficient communication between them. Organizations must implement it as part of their omnichannel digital marketing strategy. It will enable them to leverage virtual worlds that will bring their brand to life. Businesses should explore opportunities to use virtual reality to improve decision-making, reduce costs, and engage in content development.
4 Ways Businesses Are Using Augmented and Virtual Reality Today
The emerging reputation of Virtual reality (VR) and Augmented reality (AR) is enabling them to overcome the misconceptions that surround them. They are no longer considered cumbersome, futuristic, and limited to the specific domains of gaming and entertainment. They have witnessed rapid growth and adoption – businesses are recognizing their potential to transform processes and customer experience.
Some of the popular ways in which businesses use VR today include the following:
Human-Machine Interfaces
AR is not a replacement of humans with machines. Instead, it is presenting opportunities to create new workflows in which both humans and machines work together for optimized results. By enabling digital prototyping, it allows every characteristic of a part, process, or mechanism to be tested or simulated. VR helps to carry out the initial exploration of ideas, thus eliminating the need to build a full-scale working prototype. It improves the design speed and reduces the time to bring the product to the market.
Architects can explore designs before finalizing them. In product development, these advanced technologies are of critical use to boost safety and compliance efforts. Another example is how within the medical domain, nurses use AR-enabled tools to scan the human body and locate veins faster and more effectively. It improves the quality of processes to provide the patient with the best operational measures.
Improved Communications
Virtual reality marketing is opening new and cost-effective ways to interact with customers and increase brand awareness. VR and AR apps enable access to information on the product, space, and material in real-time. In the retail industry, consumers can retrieve valuable information more easily using such apps.
As a communication platform, VR technology helps in simulating every communication process imaginable. It can help foster an organization's communication performance, group dynamics, and knowledge creation. VR creates a never-before-seen depth of immersion generating greater engagement. Creative workplace communication using VR simulations is thus the future of communications. It is much more effective than video calls, resulting in enhanced understanding.
Safety Training
AR training is quite safe, and no hazards are associated with it. It stimulates the best learning environment allowing one to learn optimally without any safety hazards. It eliminates the need for operating heavy expensive machinery that tends to pose safety issues. The entire concept of AR/VR training helps save time and money spent on in-person education, repairs, insurance claims, and liabilities. It simulates the best learning experience that is compatible and consistent, resulting in an improvement in overall performance.
Enhanced Manufacturing
The use of VR enables manufacturing teams to simulate assembly line configurations and the production processes to identify vulnerabilities and rectify errors at the primary stage. It will result in reduced production time and cost. AR finds wide adoption in IoT, manufacturing, and supply chain management. It directly impacts both the production output and efficiency and user experience. For example, scanning a QR code or NFC tag can help stakeholders with health-monitoring dashboards and overlay real-time gauges over real-world objects. It will help reduce machine downtime and ensure maximum functioning.
Why is Virtual Reality Good for Businesses?
VR is offering businesses a chance to rethink how they engage with their customers. Organizations are developing new and innovative techniques for incorporating VR into day-to-day operations. With quality VR/AR content, companies can enhance their product presentation creating a more interactive shopping experience for customers. VR has revolutionized the 'try-before-you-buy' concept, allowing businesses to build credibility and confidence in customers.
VR offers several solutions to businesses that could not have been thought of either from a practical or expense point of view. It provides the best results in the retail, medicine, and healthcare sector. Exploring 3D plans through VR is bridging the gap between the designer's imagination and the real world before initiating the project. Immersive training for employees, improved quality of meetings, and simulation-based learning are improving the internal processes of organizations. As it can simulate physical environments, VR technology has proved to be a positive disruptive force for businesses.
What is the Future of Virtual Reality?
Virtual Reality is a transformative technology with potential for growth. According to recent research reports, the VR and AR market is expected to grow at a CAGR of 63.3 percent between 2018 and 2025. The VR devices of the future will be providing users with more accessible, personalized, and well-designed experiences. The greater incidences of successful examples of VR adoption are paving the path to its growing economy.
VR is believed by many to be a 'platform for tomorrow' that carries huge potential. As the world is moving towards 3D immersive content because it has better dimensions, and is much closer to real life, VR will only grow onwards and upwards. With the mass adoption of sophisticated devices like smart glasses among customers, we can expect a slew of AR/VR apps to be developed, thus unlocking countless possibilities.
What are the Pros and Cons of Virtual Reality?
Virtual Reality is the next stage of technological evolution in communication, gaming, entertainment, and user interfaces. Here's a look at the various pros and cons of VR:
Advantages
Immersive Experience: VR creates an immersive experience to facilitate understanding. These are illusions that allow users to experience as if they are in another place (place illusion) where the events that take place are authentic (plausibility illusion). They may also accept a virtual body (embodiment illusion) during such an immersive VR experience. It allows users to experience things in context.
Cost-effectiveness and scalability: Training in VR overcomes the need for physical presence that helps save on unnecessary costs. Moreover, it is highly scalable allowing employees to undergo the training simultaneously.
Real-time feedback and detailed analysis: Most VR systems have a built-in tracking system that helps capture and track data. It allows one to provide the learners with detailed real-time feedback and instructions.
Disadvantages
Intransigent: VR does not allow the flexibility to change the pre-set program sequence, unlike in the real world.
Conflict of the senses: VR experience may include artificial visual, aural, and sometimes even haptic sensations. But certain other senses tend to remain unaffected such as equilibrium and proprioception. It tends to cause a conflict in the sensory stimulus.
Expensive: Due to the present costs associated with VR technology, not everyone can afford it.
Conclusion
As the technology is developing and advancing, adopting it can help companies get a competitive advantage. They can thus effectively utilize Virtual Reality to revolutionize business processes, customer experience, and employee training. VR is undoubtedly the future of innovative business solutions.
Author Bio
Nathan Smith is a senior mean stack developer by profession at TechnoScore, a leading web and app development company with a global reach. He has sound knowledge of all the latest technologies and trends imperative for delivering cutting-edge mobile applications that stand out.