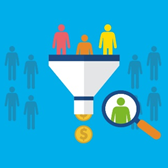 Your leads are the lifeblood of your business. As a B2B organization, it's your job to ensure that you're chasing high-quality leads with the highest likelihood of conversion. That means you can't spend all your time chasing down every person who visits your website.
You need to take steps to score all of the leads in your sales funnel to determine where your time and efforts are best spent. There are good leads and bad leads for every organization. It's important to figure out who those good leads are for a very simple reason. Hot leads typically require just a tiny push to convert. They're easy money and deserve your attention now.
Meanwhile, a cold lead can eat up a lot of time. You're chasing after people who are just going to brush you off and have no intention of making a purchase. That's why lead scoring is so crucial to an efficient sales funnel.
But how can you identify good leads and tell them apart from the bad? By the end of this article, you should be able to roll out a solid lead scoring plan that will help you determine which leads are deserving of your best efforts.
What makes a lead good or bad?
You must determine which leads are good and bad in order to focus your efforts in the right places. But you might not know what makes a lead good or bad.
In a B2B setting, a good lead is someone higher-up in an organization with the decision-making power. They also need your services and have expressed interest in them.
Here are some common characteristics of a good lead that's worthy of your time:
Business is relevant to your services
Fits in with your key buyer persona
Has a budget that properly aligns with your pricing
Has a need that can be met with your services
Has realistic expectations of your company and what it does
A lead that fits all those points is blazing hot, and you need to follow up with them right away.
Bad leads, or cold leads as they're sometimes called, are people who come across your business and might even request information. However, they have very little chance of converting.
"As a demand generation expert, there are no bad and good leads but the process to identify them is the key here. Bad leads can be turned to good leads if they are nurtured correctly." Saurabh Wani from ZoomShift.
Some common characteristics of bad leads include:
Having no decision-making power in their company
A lack of interest in communicating with you
Unrealistic expectations about what your business can do for them
Having a lack of understanding about what your company does
A budget that won't align with your pricing tiers
Now that we've discussed what makes a lead good or bad, it's time to start digging into how you can identify the good and bad within your sales funnel.
How to identify good and bad leads
The best way to identify a good or bad lead is through lead scoring. Lead scoring is when you assign a point value to certain characteristics or actions displayed by your lead. For instance, someone requesting information about your products could be worth ten points.
There are other actions and attributes that could subtract points. Let's say someone hasn't returned three phone calls — you would subtract points for that because it shows a lack of interest or follow-through.
When you build a customer profile for each lead, take the information you learn about them and add or subtract points based on what you've seen. If someone is a decision-maker with a strong budget, you'd add points to their score. You'd subtract if they're a low-level employee operating on a shoestring budget.
You'll also have to identify a point threshold that states whether a lead is good or bad. For example, anything over 70 points can be seen as a good lead. Anything between 50 and 70 can be considered a warm lead, and anything under 50 can be considered a cold lead or a lost cause.
Let's examine some common reasons you might add or subtract points when lead scoring.
Attributes match up with your ideal customer
It's crucial to understand who your ideal customers are. For a B2B organization, you should have several ideal customer profiles created. These buyer personas should list demographic information on the most likely people to purchase.
It's possible (and very likely) that you'll have several different buyer personas representing the full range of your target demos.
Some things to consider when creating buyer personas include:
Occupation
Purchasing power
Budget
Pain points
Interests
Industry
Suppose your ideal buyer is a marketing manager with a budget of over $10,000 looking for a solution to a pain point that you can alleviate. In that case, you'd assign points for each of these desired attributes.
If you come across a mid-level employee with a budget of $2,500 and a pain point that has nothing to do with your product, you'll quickly realize that nothing will come from any future interaction and take points away.
Engages in desired behaviors
Of course, simply having the attributes of an ideal customer doesn't mean that someone will convert. They could be the most ideal customer on paper but have absolutely no interest in what you're offering.
Someone like that would also be considered a bad lead, despite fitting so perfectly into your buyer persona.
That's why we also must consider desired behaviors when lead scoring. Each behavior demonstrated by a lead would carry a certain number of points contributing to their overall lead score.
For instance, reaching out to your company for a price quote is a desired behavior. You can then create a list of people who have been proactive in reaching out to you and add them as high-priority contacts for email campaigns, along with leads you might have found using an email finder service.
Additionally, answering phone calls or emails should be worth several points. Even something as simple as asking many questions and showing a substantial interest would be positive behaviors worthy of a follow-up.
Some additional desired behaviors could include:
Setting up a presentation
Booking a demo of your product
Passing your contact information along to a supervisor
Requesting marketing materials
Clicking on one of your paid ads
Of course, desired behaviors are going to differ from business to business. What one company might value heavily, another might not be concerned with. That's why you need to determine what desired behaviors your ideal buyer should make before a conversion.
Here's an example.
A business like Preply would consider a strong lead to be a business executive expanding into the French market who has signed up for a free trial of Preply's French lessons. This lead has already demonstrated a strong interest in the services offered. Actions like these are especially beneficial for subscription-based businesses like a B2B SaaS organization.
Place in the sales funnel
Your sales funnel can be a powerful tool, and a lead's place in that funnel determines how good or bad of a lead they might be.
The most common makeup of a sales funnel is:
Awareness
Interest
Decision
Action
Someone in the decision or action stage is close to making a purchase decision. These should be considered hot leads that have been nurtured through the sales process and are just about ready to hand over some money.
A lead in the awareness stage has only just learned about your business and might not go any further.
Use lead scoring technology
While lead scoring is an important part of any sales-based business, you don't have to sit there and assign points by hand while crunching numbers on a calculator.
One of the best ways to identify good and bad leads within your sales funnel is to use a lead scoring tool. This is a feature primarily found in CRM platforms that can automatically apply points to your leads as they come in.
You still must set up the criteria and values, but the process will be completely automated once that's done. From there, it's easy to organize your leads as needed and assign them to members of the sales team.
Conclusion
Lead scoring is an important part of the sales process. By keeping your attention focused on leads with a high probability of buying, you'll be able to maximize time and resources like never before.
Use lead scoring technology to automate the lead scoring process, then assign points based on the lead's position within the sales funnel, attributes that match your ideal customer, and desired behaviors. By doing this, you'll be able to focus more on low-hanging fruit and close more sales in less time.
Author Bio
Kelly Moser is the co-founder and editor at Home & Jet, a digital magazine for the modern era and the content manager at Login Lockdown. She's also an expert in freelance writing and content marketing for SaaS, Fintech, and ecommerce startups.