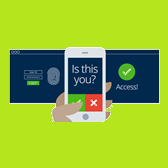 Technology has come a long way in improving the way people do almost everything, from the mundane to the complex. For CEOs, in particular, it's been much easier to manage their companies. With lots of tech for your business available, it's now possible to handle things remotely while expanding operations. Online tools allow you to be in many different places at once, all without leaving the comfort of your seat.
However, the convenience of technology and the internet come with a price. The risk of being hacked or targeted online is higher than ever, as cybercriminals are constantly trying to get their hands on your data. In 2018 alone, a study revealed that there were up to 945 data breaches worldwide, which led to the compromise of an astonishing 4.5 billion data records.
Security breaches are increasing every year. Hackers get smarter by the second as they become more familiar with the loopholes in basic account security structure. To protect both you and your consumers, it's essential to implement changes in the way you store and access your data. Luckily, there are several steps you can take to safeguard your information. You can go as hardcore as installing multi-modal biometrics—but before you go take it to that level, check to see if you've implemented security measures such as multi-factor authentication.
What is Multi-Factor Authentication?
Multi-factor authentication (MFA) refers to the use of several log-in credentials for a user to access his or her account. This is different from two-factor authentication (2FA) in the sense that it uses more than two log-in credentials.
Instead of just asking for a username and password, MFA requires you to enter a code from a secure generator, answer a security question, or even biometric information such as your fingerprint or facial pattern.
Reasons Why You Should Use MFA
Hackers are becoming smarter by the second. Data breaches are a threat to almost every kind of business. It's a fast-growing type of crime that will continue to thrive in the digital age. MFA is a simple solution to stop these criminals in their tracks and secure your data against other potential threats.
Safeguarding your business should be your number one priority. No matter what stage of growth your business is in, you should always watch for any event that could jeopardize the security of your data. For instance, you don't want to be caught vulnerable at a time where you're undergoing a merger and acquisition, as this could lead to more legal trouble for both you and your incoming business partner.
Cyberattacks aren't just a problem for big companies. If you think that your small-to-medium business is safe, think again. 31% of targeted attacks happen to organizations with fewer than 250 employees. This isn't specific to any industry either. Remember: Prevention is better than a cure.
MFA is more secure than 2FA. Since MFA requires more log-in credentials and combines biometrics with one-time passwords and the like, it's one of the most cost-effective ways to ensure your company's defenses won't be too weak to defend against potential threats.
There's more to cyberattacks than you realize. Threats against your security don't just focus on stealing your information. Cybercriminals can also destroy your data, publicize it, change your program and tool settings, broadcast propaganda, and more.
Activating MFA for your Business
You can implement MFA systems in one of two ways:
Hire an in-house IT specialist to make sure your security measures are airtight.
Outsource your IT solutions to a third-party company.
They can take care of enabling MFA settings for all your major business tools and suggest ways for you to store your data efficiently and safely. IT specialists should also do routine check-ups on the health of your security to make sure that everything is running as expected.
According to Microsoft, your accounts are 99.9% less likely to be compromised when using MFA, so there's no reason for you not to implement it ASAP.
Multi-Factor Authentication: A Need, Not A Want
You should think of MFA as an essential part of your business operations and not a luxury add-on. If you want to thrive digitally, you must focus on keeping your company running smoothly in all aspects. That includes being on top of your data security.