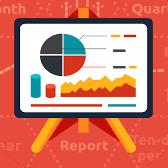 Having a high conversion landing page is an important component to your marketing strategy. After all, without conversions, you wouldn't have a business at all. A strong sales page has an enticing call to action, attractive visuals, an easy to use interface, and a clear message. It also has great marketing and channels to draw in customers. Without a little help, it can be difficult to accomplish all of these objectives. The following online tools will help you improve the conversion rates on your page and increase your sales.
Unbounce is one of the most respected conversion tools available. The simple drag and drop feature makes it very easy to use. You can create impressive, clean sales pages with the site. Another great feature is that every page you create on Unbounce will be responsive on a mobile device. This has been proven to increase sales by about 10%. Their cheapest plan is $49/month, but considering the success of the site, it could very well be worth the money.
Hello Bar places a bar at the top of your website. You can use it as an attractive call to action to bring people to your sales page. Alternatively, you could use the Hello Bar directly on the sales page to offer a special discount or offer. This can save you the money you would otherwise spend on a copywriter. It can also attract customers who don't want to spend the time searching your website for the sales page.
The reason some sales pages result in fantastic conversion rates while others seem to sit idly waiting for visitors has much to do with the written content. Successful sales pages are exciting, persuasive, and engaging. A great writer knows which words to use to entice people to buy. The team at custom writing service NinjaEssays can write your sales page to do just this. They can also proofread your content to improve your conversion rates and increase the usability of your content.
Lead Pages creates landing pages. It's very similar to Unbounce, but with a few distinct differences. For one thing, Lead Pages has a selection of templates to choose from (you can even sort them by historical conversion rate). These templates will cost about $10/$15 each. You can also perform A/B testing through the site.
User Testing connects you with live testers who navigate your sales page and record their experience as they go. The feedback to get from this might be invaluable. You will know when the tested don't understand the content, are confused about the navigation, or wish there was another option that is missing. This will improve your conversion rate because the customers who would otherwise "bounce" from your page will now fully understand the content and be more likely to buy.
If you used a professional landing page company, A/B testing might already be included. However, if you created it on your own, a testing site might be helpful. You can get started with a free sample. You just need to type in your URL and Optimizely will create an alternative "B" page, which you can run side by side with the original "A" page.
One important factor that contributes to your SEO (Search Engine Optimization) is the word count of your blog posts, web content, articles, etc. It's important to have articles that are at least 500 words. This length gives you the opportunity to dig into meaningful topics and even include links to other sites. You also want to vary the length of your posts (some of 2,000+ words) to keep your audience engaged. This Word Counter can help you maintain a good balance.
SEMrush lets you know which keywords are working for your competitors. You type in the URL for your website, and the site pulls up organic SEO keywords. You can compare national and international keywords to increase your conversions in different regions. Use of the correct keywords will increase your Google ranking and make it easier for your target market to find your business.
Instapage claims you can create a landing page in less than three minutes. Instapage is integrated with other valuable tools like MailChimp, AWeber, Salesforce, and Kiss Metrics. The site offers a variety of templates for landing pages, click through pages, webinars, mobile apps, and Thank You pages. Plans start at $29/month.
Don't rely on customers going directly to your sales page. That sort of marketing strategy is outdated. In today's age of social media, viral news stories, and everyone and their mother having a blog or website, a basic sales page is no longer enough to bring customers to your site. Instead, create a Click Funnel. It's a unique website that creates sales funnels for your website. You can either use the templates provided by Click Funnel or create your own.
As a businessman, you know the importance of a highly converting sales page. It is the backbone of your business. It is the virtual face of your company. A strong sales page is built thoughtfully and strategically. It must be compelling and clean. It must be easy to use and leave the customer without any questions. It can be helpful to perform A/B testing or have live testers use the page. These online tools will help you build a successful sales page and increase your conversion rates. Which site will you use to get started?