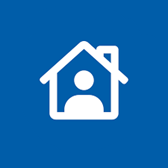 Due to the pandemic, many businesses were forced to adopt a remote work setup and sales employees were not the exception. This raised the question "can they still effectively generate sales while working from home?"
Working as a sales representative often requires face-to-face interaction but the answer to the question is yes, you can achieve the same and more within the comforts of your home. Here are seven remote selling tips you should keep in mind:
Create a professional work environment.
It is essential to have a dedicated office space at home. Without it, you might find it challenging to get work done. A dedicated workspace helps you to keep things organized. With all your work-related stuff in one place, it helps to ensure that you are efficient in connecting with prospects and responding to client queries.
You do not need anything fancy for your workspace. A simple desk and your laptop will do. And if cold calling is part of your job, you will want a telephone near you. The same thing goes for your list of potential and existing clients.
Organize your technology.
Now that you've set up your workspace, the next thing that you should do is organize your technology.
Here are the basics:
Your internet connection: It is imperative to have a stable internet connection when working remotely. But the question is, is it quick enough for your various work activities? Check to make sure that it is, and if it isn't, then you might want to consider upgrading.
Your phone plan: You'll also want to make sure that your phone set up will appropriately meet your needs. For example, if you are selling globally you need to make sure that your phone plan allows unlimited international calls.
Video conferencing tools: Aside from using CRMs and collaboration tools like Google sheets, you should also master video conferencing tools. Some clients will prefer a face-to-face conversation, even if it is through Zoom, Google Meet or Teams. You can also use these tools for product demos.
Keep a routine in place.
A lack of office structure can lead to a disorganized workday. You can find yourself working too little, too much, working odd hours, or having a difficult time staying on task. Mimicking the routine of a person working in an office can help you work much more productively.
Choose the things you want to be consistent on and include them in your to-do list or calendar. You'll find that it will be so much easier to focus on the task at hand.
Get to know your products or services.
When you're working remotely, you'll often find that you need to handle your training (or at least part of it).
Before picking up the phone, make sure you know your products inside and out.  Researching best practices online for cold calling or sales emails can also help keep you at the top of your game when in-person training is not available.
Host engaging virtual product demos.
Virtual demos of your products can be just as effective as face-to-face presentations.
Here are some product demo tips:
Prepare: To develop a suitable product demo, you need to know who your prospects are and what they want to achieve.
Share Value: Make your prospects understand how your products will benefit them.
Q&A: While doing your virtual product demo, you should stop periodically and ask your prospects if you have questions.
Call-to-Action: Just like with in-person demos, you should end it with a strong CTA. This could be a link that provides more information, register for a follow-up presentation, or to purchase your products.
Grow and nurture client base.
If you're selling remotely, you must grow and nurture your current client base online, and the best place to start is social media.
You can connect with prospects on LinkedIn, Facebook, Twitter, or whatever platform is most relevant to your niche or industry. You can then use these platforms as a great way to start a conversation, ask for feedback, or share relevant content on their feeds. Try to be personable and most of all, helpful. If you think that something will help a specific individual, share your content with them.
Develop a long-term sales mindset.
Long-term sales go well beyond your monthly goal. In the end, it's all about building meaningful relationships with your clients. Doing so increases your chances of acquiring referrals, allowing you to achieve your monthly goals.
You also can't let prospects slip away just because they aren't buying. You need to focus on cultivating client relationships, whether they are potential or existing. This includes keeping in touch with them and giving them first dibs of the upcoming features or updates on your products. Doing so will help them feel that you always have them in mind and want what's best for them.
The helpful remote selling tips listed above will give you the foundation you need to generate sales while working remotely. The key here, though, is to be efficient and cultivate meaningful relationships with your client.
About the Author:
Raymond Chiu is the Director of Operations for Maid Sailors Commercial Cleaning Service New York. Maid Sailors offers its customers unrivalled office cleaning services that can address even the toughest cleaning needs. Matched with affordable prices, Maid Sailors is your best partner in helping you turn your office into a work-friendly workplace.