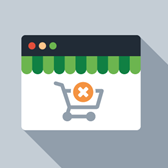 Sometimes it is a good idea to spread your product offerings across many different platforms. This can be a good tactic when you are trying to reach the greatest number of users possible. When you first start out, it's probably better to focus in on just one platform to build your business. This way you can concentrate your efforts on a single project and get the best quality results possible.
Also, there is always cost associated. This can be monetary costs or your personal time. Signing up for every online store platform will cost you a lot in both regards. In the end, this won't make business sense.
The question now is, where to start? Magento and Shopify are both popular choices, but which is right for your business? Below will highlight some aspects of both platforms and examine the ways in which they are different.
Internal Accessibility
Some platforms offer what is called an "open source" code. This term will be familiar to computer and coding experts. It simply means that the user base has access to the internal code that runs the program.
Magento in this case offers an open source code. This is important because it allows you to change the structure of the website from behind the scenes. You should be able to create very specific formats for whatever requirements you have. Plus, you can consider contacting a Magneto ecommerce development company if you are in need of more complicated features.
Shopify on the other hand does not allow access to its program code. For a lot of users, that will be alright. You can stick with the basics and still find success. If you really need to customize the code, then Magento clearly wins in this case. Something to consider before you make a commitment to either platform.
Where are the Customers?
We consider this factor to be a tie. Magento has been around longer in this case and has had more time to build a user base. As a result, many big-name companies like Nike have used Magento. You will see a higher number of website visits through the Magneto platform than Shopify. Even so, this could have more to do with the number of users on Magneto than actual popularity.
Shopify is still relatively newer and is growing quickly. Taking a look at search trends indicates that Shopify is actually generating more interest in recent years. This is a good sign that the platform is up and coming for online business.
We consider both platforms to have a strong user base. If you have a popular product, you should have access to roughly the same number of potential users.
The Costs
This is an important distinction. With Magento, you have access to a free edition to the platform. The problem is it gets more complicated. You'll have to find your own hosting service to operate with Magento. While technically you can find cheap hosting services online for a few dollars, this is not recommended.
Part of SEO is having a good host company. You want to maintain a secure, fast, and reliable platform. Any downtime will hurt your search results. In this case the cost becomes a bit of a variable. You have a bit of flexibility with how you approach this problem. Much like how the code is open source, you can build the host service to fit your needs. This could cost more or less than Shopify depending on what you choose. Don't forget to factor in the use of a professional Magneto ecommerce development company as well.
For Shopify you get a more complete package. You have access to a variety of monthly plans. Each is priced differently based on how many features you want or need access to. You might find some of the individual services at a lower price with Magento. Shopify at least guarantees a good hosting service from the beginning and access to all the right perks.
You might also have heard Shopify will charge you fees for transactions. This is partly true, depending on the payment platform you choose. You can opt into Shopify's direct payment program to avoid this however. This shouldn't be much trouble for most users.
We think Shopify again is the best options for those looking to get everything they want in one place. Shopify is all about making things simple and easy for the user. Magento has the advantage of flexible options and programming. It depends on which aspect you value more. If you just want get your store online and start selling now, go with Shopify in this case.
Website Security
As we mentioned before, Magento is open source and requires you to choose your own hosting service. This makes things a little tricky. If you don't choose secure options, or leave loopholes open in your coding, you will be at risk to potential hacks.
To avoid losing your hard-earned profits and information, it is recommended that you only choose a host company with verified security. Keep backups of information on hand in the case of a cyberattack. Always use the most up to date versions of software and go ahead and install extra security apps to ensure nothing is vulnerable.
Shopify makes it so you don't have to worry about security. Everything is closed off, so no potential hackers will be getting into the source code. All security regulations are met on Shopify. There are also active security experts working with the Shopify team. With Shopify there is no doubt that you, and your customer's information will be secure.
In this case Shopify clearly wins for their better implemented security features. Even though Magento has the potential to be just as secure, there is no guarantee in the basic format.
Summary
So which platform wins out in this case? That is a tough call. We see both platforms as highly robust, and easy to use. Neither is significantly better than the other. Many companies and individuals have found tremendous success on each platform.
However, there is one key difference. We see Magento as having the higher potential between the two platforms. The ability to directly access the source and customize to your specific needs is something you can't get with Shopify. If you utilize the resources of a certified company, the possibilities for custom designed options are virtually limitless. Magneto is the choice for the user who knows that they need more and are willing to put in the effort to build something great.
On the other hand, Shopify will appeal to many smaller businesses who want to start an online store with no worry or hassle. This platform is the best tool for getting something built quickly, and less effort. It all depends on how much you expect your platform to grow. If you work in a niche market and are not worried about outgrowing Shopify then the platform works great. Everything you need is built in. Security, hosting, payment processing, and website tools. This is the no stress option for users.
In the end, we still think Magento has a greater capacity. Take a look at the platforms and use our guide to get a feel for what your needs are. Success can be found on both, so make the choice that feels right for you.
About the Author
Ravi Sharma is an enthusiastic entrepreneur who has established a Magento company, Webomaze at a very young age. He has a great command over development skills which has motivated him to lead the Magento development services aiming at best UI and UX combined. He is a fun-loving person who loves to travel in search of adventure.