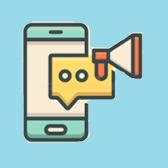 SMS is a great tool to enhance sales. 98% of text messages get read and 90% of them within 3 minutes of receipt. You can rest assured that your message won't get lost in the crowded inbox. However, text message marketing is one of the most underutilized communication techniques. Customers frequently choose SMS messaging as a discrete, rapid way to get brief messages. However, sometimes text message marketing in the B2B space is disregarded. Most B2B marketers consider it as a B2C-only technique. Like B2C sales, text messaging can be a successful B2B marketing strategy to move prospects farther down the sales funnel.
This blog is for you if you want practical advice on using text messaging for B2B businesses.
What is SMS Marketing?
SMS marketing uses text messages (aka Short Message Service or SMS) to send promotional or transactional messages for marketing objectives. Those who have agreed to receive these communications from your company intend to get them to inform them of time-sensitive offers, updates, and alerts.
SMS marketing is gaining popularity due to various factors:
Growing popularity of smartphones
Instant notification – short and direct
Can read within 3 minutes
Inexpensive and better reach
Three Key Advantages to SMS in B2B
1. Intimacy
We have a strong bonding with phones. It is with us 24/7, and according to research, people between 18-24 check phones 47 times a day, on average. And that is why the chances of opening are relatively high when you get an SMS.
2. Immediacy
Texting is fast and almost instantaneous compared to other forms of remote communication. One of the main reasons SMS is so well-liked by clients of all types is the quickness of communication. Calls are frequently an excellent method to encourage movement down the sales funnel. Unfortunately, calls are time-consuming. 76% of customers dislike speaking on the phone with businesses. And that's where SMS steps in to save the day.
3. Lack of Pressure
People don't typically accept telemarketing calls from numbers they don't recognize, which is another disadvantage of telephoning. 25% won't even give a voicemail from an unknown number a chance. The attrition rate is momentous. Luckily texting is free of these speculations. Customers typically don't mind receiving texts from unknown numbers. Texting suggests a lower level of commitment to the activity than calling, whether for voicemail or a live conversation. Reading a text benefits window shopping; you are free to take advantage of the items on show, and neither party has committed to continue the transaction.
Now, Let Us Discuss Some Best SMS Practices to Boost Sales.
If you've realized that text messaging is an effective marketing tactic for your company, you'll want to understand how to use it correctly. The following six SMS sales best practices will aid in getting started.
1. Obtaining Consent
Before you begin texting your audience, you must first have their permission. Otherwise, you risk offending many potential clients, which is never beneficial for a business.
Fortunately, it is easy to get permission.
Create an SMS campaign: An SMS campaign is any marketing endeavor that entices customers to text a specific code or keyword to a company in exchange for a reward or benefit. You can discuss with your developer and incorporate the ideal plugin during WooCommerce development to automate your campaign.
Provide an Opt-in Box: Give clients the option to get text messages from your business when they purchase your website. Just be honest about what you'll SMS them about after they sign up for your list.
Both methods will be effective and let you start texting your audience lawfully without hurting your established rapport.
2. SMS Sales Tool
There are various marketing tools available, and you might use most of them to automate your marketing campaigns. If you are not using tools to make SMS sales effective and effortless, you should try it. Also, you can ask your developer to incorporate the right plugin during Magento development.
TextMagic: Since 2001, TextMagic has provided bulk SMS services. You can rely on them to meet all your SMS sales requirements. The solution can convert emails to SMS messages, two-way SMS chat for direct client communication, an advanced analytics dashboard, and the capacity to transmit texts up to 918 characters. With your CRM, it offers smooth integration options.
Podium Webchat: Utilize a simple button to connect with your leads via text to capture and convert leads while they are on your website. Podium Webchat is only one of many messaging options available through Podium's Interaction Management Platform. It aids companies in text-based lead, review, and payment generation.
EZTexting: EZTexting is a simple-to-use platform that enables customers to text messages to engage their audience. More than 160,000 firms have sent over 5.5 billion messages using this platform. The primary features of EZTexting are drip campaigns, keywords, and picture messages.
3. Offer Something Valuable
For a reason, your audience opted to receive text messages from you. They demand something in return for providing you with their phone numbers. Just keep in mind that you should always have a purpose in mind when sending SMS messages to your prospects and clients.
4. Include a Clear Call-To-Action
It would help if you did more than provide your audience with something worthwhile in your SMS messages. You must also equip them with a simple and persuasive method of obtaining it. You, therefore, require a solid call to action (CTA).
You can try samples like:
Sign up now for free!
Use this code and get 35% off at checkout!
Complete this 1-minute survey and win
Clarity and conciseness are essential for this type of call to action. As rapidly as possible, inform your audience what they need to know. Then, sign-off.
5. Keep It Short
SMS should be brief. You should text the crucial points rather than write elaborate content. You should write content to grab their attention. For that, begin with an enticing phrase. The content should focus on the benefits rather than the list of features. You should also include multimedia messages as your points cross faster through visuals.
6. Get Your Timing Right
Timing is as crucial as what you write in your SMS when you send them. For instance, if you text a client at three in the morning, you'll likely come out weird, and your texts won't be productive.
Instead, try to send your messages at one of these popular times:
10:31am – 11:29am
2:34pm – 3:27pm
Conclusion
For sales teams, B2B sales have some distinct difficulties to overcome. The sales approaches must be very targeted to assist your team in generating leads and closing agreements. B2B presents different obstacles compared to B2C. However, there are still plenty of chances for businesses in this sector to exceed sales targets if they adjust to shifting customer purchasing patterns.
Compared to sales calls and emails alone, texting can significantly increase the efficiency with which you close deals. You can use these recommendations to ensure your texts are appropriate, helpful, and professional and watch your conversion rates soaring. If you need any help with SEO services or SMS marketing, feel free to connect with us!
Author Bio:
Marion Jones is a certified WooCommerce developer passionate about writing WooCommerce development. Her year long experience with CartKnitter helps to provide insightful articles for a wide range of customers.