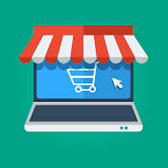 The internet has made our lives better. It has also made product selling and customer experiences more satisfying. Between online and conventional or so-called brick-and-mortar stores, online businesses generate more sales and profits. Moving your business online is more affordable than you think and it comes with a list of benefits.
This article covers:
Why Should You Move Your Brick-and-Mortar Business Online?
How to Move Your Business Online – Step by Step
WooCommerce VS Shopify: Setup & Maintenance Cost
Why Should You Move Your Brick-and-Mortar Business Online?
We have to consider the numbers here. Global eCommerce sales will reach an estimated $4.2 trillion in 2020. The latest statistics show that over 2.1 billion shoppers will purchase services and products online by 2021. When it comes to selling your products online, here are the benefits for both you and your customers:
Running an online store is way more cost-effective than running a physical store.
Reduces your store management time and allows you to focus on important factors, such as bringing in more customers to your website.
Make money while you sleep! Your store is open 24/7.
You can sell your products worldwide.
You can store customer information and promote more products.
You can find visitors who do not buy, re-target them to try and get them back to your online store.
The need for transitioning from brick-and-mortar stores to online stores is obvious, especially if you consider the reach of social media across the globe. Millions of people buy products through social channels each day.
Adapting to selling products and services online also takes the customer experience to the next level. And enhanced customer experience results in repeat customers.
How to Move Your Business Online – Step by Step Guide
Choosing the Right Platform
Platform selection is a decision that affects your online business in the long run. The platform you choose is the foundation of your online store. We highly recommend WooCommerce and Shopify. Both are top eCommerce store builders for anyone planning to move a brick-and-mortar business online. Both also offer great a customer experience and are very well rated by the community.
WooCommerce is the better option, especially when you consider the startup and maintenance costs. The challenge with WooCommerce is the initial setup of your store is time consuming.
Shopify is a great platform with amazing reviews. The best part of Shopify is its ease of use. You can have a fully functioning store within a few hours and you can do it all by yourself. Their support team is great too.
WooCommerce VS Shopify: Setup & Maintenance Cost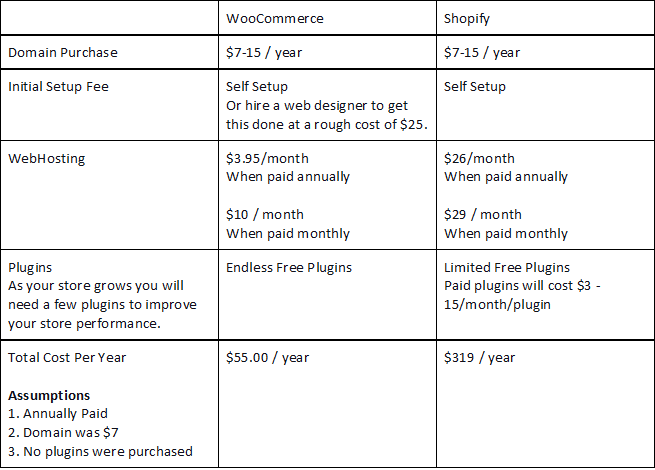 While both WooCommerce and Shopify are amazing eCommerce builders, maintaining a WooCommerce store is way more affordable.
To make this process even easier for you, eCommerce Millionaires does have a Free WooCommerce Setup plan where the setup can be done for you.
Choosing the Right Theme
The theme you choose for your online store can do wonders in terms of enhancing the customer experience. Here are a few key factors to consider:
Start with a relevant theme that matches your business.
Make sure your theme is simple and not too fancy.
Your goal is to have a high performing website, not to have the most beautiful store.
Do your research. Look at the sites of your top competitors.
Make sure the theme you choose is mobile friendly.
Ask yourself if the theme is appropriate fit for the products you offer.
How much money would you have to spend on a professional-looking theme that comes with the above features? The answer is $0. WooCommerce and Shopify offer many free high-grade themes for their customers. Shopify offers 9 free themes, and WooCommerce offers 50+ free themes.
Once you have finalized the theme, you can prepare the essential pages of your online store. The Homepage, Shipping FAQ, Return & Exchange Policy, and Contact Us pages are the primary pages of any online store.
Fill your online store's pages with engaging content. When done correctly, content marketing can do wonders for your online store, leading to increased sales and profits.
Adding Your Products and Pricing
You need compelling and detailed product pages to sell the value of your products and services. From eye-catching photos of your products to summarized and compelling product descriptions, all these elements help you attract customers and persuade them to buy.
Adding products to the online store can take some time. The amount of time this step requires depends on the scale of your product catalog. However, both WooCommerce and Shopify have come up with methods to upload products quickly.
You can bulk upload from your Shopify admin, which is a time-saving method of uploading products on to your new online store. You can also use Shopify POS or the Shopify Mobile App to take photos of your products with your smartphone and upload the images directly to your online store.
They say a picture can tell a thousand words.  The same is true about your product photos. Taking the time to upload quality photos of your products is crucial. Rather than reading lengthy product descriptions, customers prefer to get as much information through images as possible. As well as show casing the quality of your products, eye-catching product photos build trust and transparency.
Product photography refers to a collection of techniques that shows off your products attractively to potential buyers. Did you know that 90% of information transmitted to our brain is visual? You can explain a sophisticated product easily by using high-quality photos.
You can use two product photography methods for your new online store:
White Background & Product-Only Images: Use many images that showcase your product from different angles.
In-Context or Lifestyle Photos: The images show your product fulfilling buyers' requirements, or with other related products.
Setup Your Payment: Accepting Payments Online
Integrating the payment gateway into your online store is a crucial part of the setup. You will have to connect your store with a payment processor such as PayPal, Amazon Pay, Stripe, SagePay, or Authorize.net.
The setup process is fairly easy and it's the same amount of work no matter which eCommerce builder you choose.
Launch and Spread the Word
Now that you have your eCommerce site set up, you'll need to start promoting it. Spreading the word about your online store be done in many ways including SEO, social media, email, and by using influencers.
Promoting your store will be the hardest part. This is why you shouldn't spend too much time focusing on building the perfect store. Building your store should only take about a week and by week 2 you should be heavily focused on promoting your store.
Conclusion
When considering the endless benefits, moving your brick-and-mortar business online is a necessary change. Given the fact that the cost physical resources such as rental space and equipment goes up every year and online services get cheaper by the day, you should consider starting an online store as soon as possible.
Start building your online store today. Checkout this Free WooCommerce Store plan.