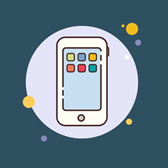 Through the years, we have seen how technology has helped us make transformative changes. Think of technology as life-support — continuously facilitating our lives, helping us accomplish our daily tasks and routines so that we can function with comfortability and accuracy. The mushrooming use of handheld devices, or what we now call smartphones, came with its own advantages. Each brand offers its own comprehensive list of characteristics and unique features. This was brought about by the public's ever-growing demand for such gadgets. According to Statista (2021), the number of mobile devices used worldwide is expected to reach 17.72 billion by the end of the year 2024. This anticipated number manifests an increase of 3.7 billion devices compared to the previous study done in 2020. What is not to like about mobile phones? It is almost as if everything you need to get by in life has been provided there — hotel bookings, airline reservations, fund transfers, online shopping, entertainment, social media, news, as well as management of businesses —  all have been reliably useful. Thanks to our mobile app developers, the way we conduct our daily lives will never be the same.
Mobile apps present a variety of competitive advantages even for businesses trying to improve their customer service, base, and engagement. Customer service is one of the most integral parts of any business. Think of it as a major representation of your company's brand. It is so incredibly important that nearly 70% of people would opt to spend more of their money with a brand that has excellent customer service (Ameritas, 2020)
Customer service is the kind of support you offer to your clients. Its role is not just about helping your customers make informed decisions or whether to buy your products. It's also help them after they have made a purchase, installed an app, or solve a problem so that they can have an easy, enjoyable and rewarding experience with your brand. All these are under the umbrella of your brand's promise. The value or experience your customer receives is unique to you. Positive feedback derived from these efforts can also help generate and maintain a great reputation, high brand value, and more loyal customers. Here are a few dependable customer service apps that you can use on your mobile device or tablets to help you reconnect with your clients and assist them
Smarter Track
This app is a straightforward online help desk solution that provides customer service offerings at a reduced cost. It is perfect for small businesses and can automatically accept your customer's complaints through its email ticketing system. A live chat is also available for easy access to information so that you can ensure that all your customer's concerns are promptly attended to. It can also track sales opportunities and internal support issues. Smarter Track provides a platform where you can easily manage employee and client communications through various channels be it from your tablet or smartphone.
Blaze Loop
The advantage of acquiring Blaze Loop as a customer engagement solution is that it can help your business increase its revenue and profit through a repeat business scheme and the traditional positive word-of-mouth referrals. Blaze Loop can be connected to your company's social media so that your staff can be on the lookout for needy customers and respond and resolve issues in real-time. Through this app, you can receive insights, information, and inputs in real-time. Then you can use the metrics to create smooth and outstanding business practices, helping you to increase productivity in your business operations.
Zen Desk
Zen Desk is a leading cloud-based client service software solution that has helped more than 20,000 companies like Box, OpenTable, and Groupon. Its service promise includes customer satisfaction at a lower cost. The thing that sets Zen Desk apart from the others is that it has a user-friendly, self-service tool which is a quick and convenient way for your customers to have their needs attended to automatedly. When issues are more complex, they also offer one-on-one customer support so that customer service is streamlined, made simple, and easy.
There might be tons of other customer service mobile apps in the Android and Apple app store. When downloading one, always remember to do research first to make sure you will benefit from it and help your business processes optimally, not complicate them.
Author Bio
Natasha Barbeyto-Castaño is a beauty, wellness, and lifestyle writer. She took up Fashion Design and Merchandising in college and was hired as a personal shopper for a high-end department store right after graduating. Writing for the beauty and fashion sections of a society magazine and being head of content for a clothing company kept her busy before getting married and having a little boy. She learned to read at the age of 3 and wants her son to grow up sharing the same love for books. Nowadays, this organic wellness nut and attachment parenting advocate balances working from home and being a housewife. She enjoys watching psychological thrillers and foreign-language films with her husband during her free time.