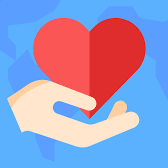 As the director or owner of a non-profit organization, you probably have many responsibilities. Your main goal is of course to build and increase awareness surrounding your company's social and/or environmental causes… And you may also be pretty tech-savvy, already having setup an unlimited web hosting account, and implemented G suite for non-profits (for sending email). I'm also willing to bet that to get your message out there, you've already had a professional website designed by a top-notch web design agency, too. One that properly conveys your goals, values and business model as a whole.
Once you have done all that you may be thinking about putting up your feet as your thinking you don't need to do anything further. Wrong! You still need to market your non-profit to get the message out to a wider audience. With all the other responsibilities that you have running the non-profit, the last thing you can afford or want to do is run the marking department.
Thankfully in a digital age, it's pretty easy to utilize digital tools to effectively do hours and hours of work that would have taken a small team to complete. Using digital marketing tools your non-profit can take full advantage of these tool features to raise awareness about your cause, increase your donor base and improve the quality and quantity of your communications with a target audience. Here are 3 marketing tools which will help to maximize the efficiency in which you can market your non-profit organization.
1.       Eventbrite for Non-Profits
This is an excellent solution to set up and start your fundraising efforts in as little as a few minutes.
Its platform will allow you to quickly share your event online with the ability to not only collect donations but sell tickets to your events.
Eventbrite is great as it will also allow your attendees to grow your donor base naturally. They will be able to share your events using popular social platforms and even be able to make donations online via PayPal and Google checkouts.
As an added bonus, by leveraging the built-in functions of Eventbrite and the built-in checkouts you can get preferred rates reserved only for non-profits. After all, every penny counts!
Another benefit of Eventbrite is its non-profit highlight section and integrated promotion tools which can get you even more exposure and expand its reach to spark more interest in your causes.
You get full event management and tracking capabilities to see if your event was a success or not. Tracking and reporting are also available for collected donations and any ticket sales your event may have raised.
Eventbrite is free for non-profits and you only pay a small % when you receive a payment.
View more information on the Eventbrite website.
2.       Canva for Non-Profits
Canva is another great indispensable tool for your non-profit. Undoubtedly your going to be doing a lot of promotion and will at some point need graphics and/or design media for past and future events.
It can get expensive to hire a graphic designer do design your promotional materials like eBooks, infographics, brochures, header images, etc.
Thankfully, Canva can be used for virtually any type of visual content that your non-profit requires.
It comes with a library of over 1 million images for you to use and you can even add in your own branding to the templates and examples they provide.
All the design work is done via an online user-friendly drag and drop tool so there aren't any additional skills that you will need to learn or anything to download.
You can save your designs as templates to use in future projects or for work colleagues to use in new and existing projects.
The offering by Canva to non-profits is its premium Canva for work offering which is totally free for registered non-profits.
View more information on the Canva website.
3.       Buffer for Non-Profits
In the digital age that we are in your non-profit must be on social media. The problem you may have is who is going to manage all of this?
You don't have the time or energy to be posting your non-profit updates on social media.
With everything on the director's to-do list, you find that writing for your non-profits FaceBook, Twitter, LinkedIn, etc. accounts are often the last thing you think about.
Even though social media has the potential to propel your non-profit message to a much wider audience and potentially go viral.
Buffer can help you in managing your social media. You can create and schedule posts in advance to go out on a schedule for multiple different social media accounts.
You can schedule a months' worth of posts by spending a few hours in Buffer and adding them to your schedule.
As well as scheduling you will also have access to reporting which can show you the engagement your posts/updates receive so that you can reschedule if required!
Buffer also has many different integrations for you to be able to manage your 'Buffer feed' via a mobile app, a desktop app or if you prefer you can have a totally hands-off approach and post updates from your popular RSS feeds.