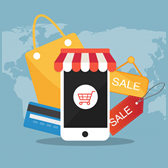 The days of the internet being used solely for entertainment purposes are long gone. In this age of technology, the internet has become one of the biggest sources for generating income. About 25% of all websites are eCommerce related to date. Everyone has the ability to market their business online.
Making money by selling various products and services online has become the norm. There are endless ways to showcase your talents and creativity. The internet provides countless channels to build a successful e-store.
There are hundreds of eCommerce platforms where you can build your site and put your products on display. Using countless plugins and tools you can make your product pages more attractive and easier to manage. You can also send and receive funds through online transactions with these platforms. Here are the top 10 things you should do before starting your own e-store.
Create an Effective Business Plan
The most important thing when starting any kind of business is your business plan. An effective plan means a successful business. Your plan should fit the needs of your business niche. Research the possibilities and opportunities available to you. By creating a solid business plan, you can easily set your business goals to help ensure success.
Carefully Choose an eCommerce Platform
After you've created your plan, start to sort out the different eCommerce platforms and choose the one best suited to your business.  If your business plan is the foundation of your ecommerce site, then the platform helps you build the walls. Choose a platform that provides you with the features you need to stick to your plan and stay within budget.
Focus on the Customer and Understand the Market
Your customers are the key to a successful eCommerce site. Identify the demographics and psychographics of the potential customers you want to target. Monitor their buying habits and try to comprehend their needs effectively. You should also watch your competitors' sites.  By doing so you can see which business strategies are working for them and incorporated them into your plan.
Pick the Right Products and Be Unique
The next important step is to be unique with which products you want to sell and how you showcase them. Focusing on your customers and their demands can help determine this. Be sure to find the right supplier of the products if you are not manufacturing your own.
Advertising is Key
Advertising is the key to success in this age of social media. A well-organized marketing plan will help boost your business. Advertising your products and services on the heavily trafficked social media platforms like Facebook, YouTube, and Instagram gives you widespread exposure. More advertisement means more potential customers.
Make Your Pages Attractive and User Friendly
After picking the products you are going to sell, you'll need to create the product pages.  Make your pages attractive and easy to navigate. Add the tools and plugins required to make it unique and effective for your customers. Add images of your product and the product description. Make payments easy by adding related plugins. A more effective product page means more site visits and increased sales.
Adding the WooCommerce Product Video plugin will help you to add videos to your page. By using this plugin, you will be able to add videos of your products. Video content also helps with ranking high on search engines and engaging site visitors.
SEO is Key to Success
SEO or Search Engine Optimization is one of the most important concepts in eCommerce. SEO can help you market your website or e-store to as many people as you want. According to recent research, SEO is the most effective tool used by successful eCommerce stores to increase their sales. By using SEO, you can improve your page ranking in search engines like Google. A high-ranking site means more page visits and more purchases. By using SEO effectively, you can also set your site above your competitors.
Design your Email List
Email is another effective tool for marketing your online business. Using your email list, you can connect easily to your regular customers as well as new visitors to your page. One the best ways you can keep your customers engaged is by sending them regular emails.
Quick Responses
To keep your customers happy, you must be quick in your responses. You should understand their questions and complaints and address them as soon as possible. This keeps your customers happy and helps build trust.
Update Your Ecommerce Site Regularly
Finally, you should be regularly updating the content regarding your products and your product pages. This will help keep your customers interested.
You should also regularly evaluate your business strategies and the technical aspects of your site. This helps to make sure your site is functioning properly and that you are on trend with the latest market changes.
Conclusion
I hope this article will help you when setting up of your new online store. By taking these points into consideration before starting your e-store, your site has a better chance at success.