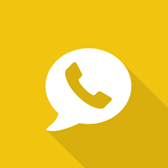 Compared to other phone systems, chat bots and ticketing systems, VoIP allows customer support calls to be handled quicker – at least according to Paradyn. More importantly, it allows for said calls be handled 100% by the same person.
This equates to not being "passed around" from call center rep to call center rep, as typically, the person who answered and handled your initial call will guide you through the service or support request from start to finish.
VoIP support also increases the customer experience by facilitating 24/7 support. You no longer have to worry about making a support call before or after a certain time, or even of a specific day of the week, month or year… VoIP is the standard in 24/7/365 support, and so the customer experience will never be tarnished – whether it's midnight on a Friday, a Sunday morning before church, or even on New Year's Day.
These are just some of the reasons why so many companies are embracing VoIP for an enhanced customer experience… Compliments of Paradyn, check out this infographic for more on the effectiveness of VoIP, and its ability to deliver better support and an impeccable customer experience. More >>