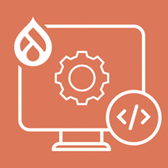 The fierce competition in today's digital landscape is urging businesses to deliver unique user experiences. It's critical to capture the attention of your users within seconds on your digital front.
To achieve this goal, every company, from start-up to Fortune 500, is putting everything into excelling in enterprise web application development.
Drupal enters the picture as the ideal choice that offers the best of what's out there and runs it in an integrated CMS environment. Another benefit with using Drupal CMS is that you can customize your own application using APIs from a single Drupal dashboard. You will just have to opt in for custom Drupal development, and you can have a custom application.
That's not all. Here are some more reasons that will justify our statement of calling Drupal CMS the future of enterprise web applications.
1. Create separate websites for each of your businesses
If you are running a plethora of businesses or ventures, there is a possibility that you require multiple websites for different segments of your digital firm.
Drupal comes to your rescue by allowing you to administer multiple websites set up across various geographies, promotional campaigns, brands, and more on a centralized platform. With this, you can create and deploy multi-site in the fastest and simplest way possible.
Insider-info: Big brands like Pfizer, Tesla Motors, Grammy, The Economist, Oxford University, the Government of Australia, and more are powered by Drupal. So, what's the wait for? Gear up to get included in the list with the big names in the industry.
2. Flexibility in content architecture
By letting you create the admin interface or even program it, Drupal enables you to create the right content architecture. Utilize the stupendous display mode tools and views offered by Drupal and exhibit suitable content for each context on your digital front.
Bestow an incredible user experience as you leverage flexibility in your content architecture.  Also, try your hand at customizing menus and paths to get your content accessed easily across several devices.
3. Seamless third-party integration
There are several top-notch technologies outside of Drupal that can prove to be an astounding asset to your website. Leverage the merits of the best set of tools as you integrate with the third-party marketing technologies and business applications seamlessly with Drupal.
You can also utilize the Drupal API first approach to connect content to other websites and applications and make it reachable to a wider audience.
4. Stays updated with the latest innovations
To empower enterprise websites and applications with feature-rich releases, Drupal keeps its community-driven CMS platform updated with the latest technology. The latest addition, Drupal 9, has introduced some amazing out-of-the-box features like easy content publishing, workflow streamlining to drive value, great digital experience, and more to help you with trouble-free enterprise web development.
5. Easy and simplified coding
Drupal provides developers with simple and effective coding customizations for enterprise websites. Its core and contributed modules can be leveraged for any website. Moreover, you can easily modify and tweak the code because of their object-oriented nature and reusable code architecture.
It offers you the flexibility to modify the code on your website easily and deploy a new feature or tweak an existing one without much effort in no time. It enables you to give a competitive edge to the other businesses in the industry.
6. SEO-friendly nature
The variety of modules found in Drupal, like global redirect, XML site map, SEO checklist, meta tags, path auto modules, and more, can turn anything basic into an exceptional one in terms of SEO.
Factcheck: Forrester's report reported that semantic structure plays a great role in streamlining the work of authors and content managers. Since the Drupal code is also written semantically, it leverages the alt and title tags for the uploaded media.
To describe one of them in detail, Drupal's metatag module allows you to easily add meta tags to your web application. It offers you the entire control over the appearance of your content on the connected social media channels.
An intuitive taxonomy system is another attention-seeking key aspect that every SEO-friendly web application needs. Drupal comes equipped with it and makes it effortless to organize content with the use of keywords. Not only does it simplify organizing the information based on themes, but it also ensures easy navigation on search terms.
Simply put, Drupal has been well optimized for search engines since the entry of Drupal 7 in 2011, given its RDF support.
8. API-friendly architecture 
The API-first initiative approach has made it easier to create and manage content from a single location. Drupal has announced various APIs in its latest releases to excel in customer experience at every stage in the customer journey. Some of them are described below.
Translation API: This is the Drupal Translation API that plays a key role in transforming the language of your web application based on the area from where the visitor lives.
Render API: This Drupal API ensures a faster page rendering. It further enhances the overall user experience with the assistance of improved caching protocols.
RESTful web services API: It is well-known for supporting a decoupled Drupal website. It takes care of the web services integration and communication that takes place between a specific Drupal website and native mobile applications.
JSON API: This module is known to simplify the process of integration management by allowing communication and serialization through JSON.
End notes
The details listed above prove the popularity of Drupal CMS for building enterprise web applications. Moreover, Drupal's high-end configuration and top-notch modular approach will help you showcase your business mission and vision clearly so that you can keep your pace with the evolving digital landscape.
If you are also looking to develop an exceptional enterprise web application, get in touch with our experts who will be more than happy to help you hire Drupal developers to create world-class web applications powered by Drupal.