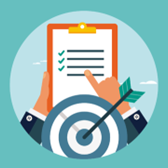 Marketing is an essential part of your business. You wouldn't be able to earn more customers without your marketing team's efforts. Effective marketing can get your sales teams more qualified leads, attract more customers, and generate more sales. You can improve your reputation and set yourself apart from the competition. Businesses must know how to market their products and services to save money.
This year, increasing your marketing efforts allows you to find better ways to market to your customers and improve their experience with your brand. Here are 10 surefire ways to increase your marketing efforts in 2022.
1. Understand Your Audience
The first step in developing a better marketing plan is to know who you should be trying to target with your marketing efforts. You should research your ideal customer and what their interests are. For example, if you're an IT cybersecurity company, you know your customers need to protect their data. However, you can learn more about their values and needs by digging into your file data.
With the right website tools, you can learn about the different types of blogs your customers are reading to determine the most important topics. Additionally, you can learn about where you find your audience by looking at current data. With the data on your existing customers, you can find out if there's a specific region you should be targeting and spending more money on advertising.
2. Effectively Target Your Audience
After learning about your audience, you can begin targeting specific people. Build out your marketing campaigns based on your audience's interests, locations, and even ages. Additionally, you can target your audience using the keywords they're using to search for products and services similar to yours.
3. Gather Testimonials
Business customers read reviews regularly before buying products. By gathering testimonials from your customers, you can convince new customers to purchase products and services from you. Ask for testimonials by sending your customers an email and giving them a discount for honest feedback. Post testimonials directly on your website to convert visitors into paying customers.
4. Improve Your PR Efforts
Public relations can help improve your brand reputation and increase trust among consumers. By becoming an expert in your field, your customers will trust you and your products and services more. Additionally, you can use media relations to highlight areas where your company is succeeding to boost brand awareness and create positive sentiment about your brand.
5. Improve Your Search Engine Optimization (SEO)
If you haven't yet invested in an SEO strategy, you're losing out on quality customers. Search engine optimization allows you to reach people searching for your products and services on search engines like Google. These people are already doing research, so you already know they're interested in a helpful article or product that can help them with a particular problem.
It's essential to keep in mind that SEO can be a significant investment, and it can take months to achieve more website traffic and conversions. Still, it's worth it in the long run, especially if your audience is searching for products and services like yours on search engines.
6. Engage Your Audience with Social Media
Social media is a great tool to connect with your customers and prospects in a professional but personalized way. Investing in a social media marketing strategy to help you organically increase follower count and engagement. However, organic social media is becoming increasingly more difficult. In recent years, Facebook has made it more difficult for brands to reach customers because users were calling for a chance to see more posts from their friends and family and fewer posts from brands in their feeds.
When using social media to increase brand awareness, it's best to invest in an ad strategy that can help you reach more customers. Lead generation ads are great to build up a prospect list and help your sales team get more leads.
7. Try Influencer Marketing
Influencer marketing is becoming more popular among companies in all industries because it's highly effective. Influencers have built up followings because they've made themselves authorities on particular subjects. For example, someone might follow a business consultant, academic, or author because they have extensive knowledge about their industry. In this case, teaming up with influencers to help get your products in front of the eyes of the influencer's followers, will help increase brand awareness and sales.
Your influencer marketing campaigns are measurable if you know what you're doing. You can use coupon codes to track sales from the campaign or check your website analytics to see how much referral traffic you've earned.
8. Update Content Regularly
If you're investing in an SEO strategy, you should already be updating your content regularly to help you rank for keywords related to your industry and business. However, updating content regularly also gives your customers a place they can go for more information about certain topics. For example, a marketing agency might write a blog about marketing tips for small and mid-size businesses.
9. Sponsor Local Events
If you're a local business, you can sponsor local events to get more involved in your community. Local promotion can help you earn more customers and start attracting a local demographic. Sponsorships can help you increase brand awareness while showing your community you care about the people who purchase your products and services.
10. Keep Testing
Marketing includes many testing to ensure you're doing everything possible to convert website visitors into paying customers. You should test everything from your sales landing page to your website copy to see what changes can improve conversion rates and help you generate more revenue.
Final Thoughts
This year, increasing your marketing efforts doesn't mean you have to spend thousands more dollars. However, it may mean you have to invest in different marketing methods that are long-term strategies. While some methods can help increase sales immediately, such as Google Ads, others will take longer to show results, but once those results are in, but they're well worth the wait.
Ashley Nielsen
Ashley Nielsen earned a B.S. degree in Business Administration Marketing at Point Loma Nazarene University. She is a freelance writer where she shares knowledge about general business, marketing, lifestyle, wellness or financial tips. During her free time she enjoys being outside, staying active, reading a book, or diving deep into her favorite music.