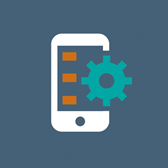 Today many companies are looking for their own mobile applications for employees. Opting for the right platform for mobile app development helps you to build an app that will fit your organizations' requirements like a glove.
For almost every industry, a mobile strategy is no longer an emerging enterprise software development trend, it has become a requirement. You must have come across the bring your own device phenomenon, which is growing at a rapid pace, and companies are looking to freeze the real productivity from all the mobile devices. The marketplace for enterprise applications built for mobile platforms is booming.
For mobile app development, adopting the right mobile strategy plays an essential role in all types of businesses, helping them to be successful. In this article, we're going to discuss the 5 main things to look for in mobile development platforms for enterprises. So, without any further delay, let's get started!
1. Do the research and create task-specific-apps
Doing in-depth research for mobile app development is an essential task for every business. Through market research on your competitors, you'll learn about the current trends, technologies, and methods that your competitors are working on. It will help you to get insights into the market strategies strengths and weaknesses. This information will help you avoid mistakes your competitors made. Besides, in order to capture your user's eye, you'll have to create something more attractive compared to other mobile apps already available in the app stores.
2. Application management
Once your mobile app development is complete, make sure to manage it properly, for instance, controlling people's access. When managing your application you'll be able to gather reporting and analytics you can use to track your apps' performance and ensure that it is functioning well. The tracked data will come in handy when you update your program, and you'll know what is required to improve and what can be left behind.
3. Smooth integration with your enterprise's business systems
Your company is probably already dependent on some applications and systems for daily work. Make sure to keep this dependency in mind before adopting the right business solutions while developing an app for your enterprise. It is crucial to have control-built mobile apps which are synced with your organizations' digital anatomy for seamless and flexible integration that will allow you to share between your app and the host systems that your business runs.
Once you start working properly and everything is synced, your mobile app will be the system for engagement that works as a gateway to the rest of your business systems.
4. Choosing the right development partner
For promoting your application or business, who you are choosing as your development partner is essential because your app can make an impact on your image globally. As we all know, promoting your business reflects your business image and your identity worldwide. If you're choosing the right mobile app developer, they'll pay attention to their approach, strategy, and requirements of their clients.
A mobile app development company with vast experience and knowledgeable web developers follows an agile methodology and material pricing model for creating an innovative and modern app for your business organization. Due to the lack of marketing strategy and improper management, many apps failed to gain attraction in the market. Therefore, it is important to invest time in choosing the best and best suited development partner for your business.
5. Design for the user
Lastly, make sure that your application experience is about the user. The app design should be user-friendly, and it should be easily accessible by the end-users. Product development needs to be interactive and seamless, seeking user feedback every now and then. Your goal is to create a perfect application that allows you to connect with users in a way that you're not required to sacrifice aesthetics for functionality. Your app should be secure from the beginning, and it should include app login credentials, encryption, remote actual device, and much more.
For mobile app development, optimizing the existing data helps with seamless integration with your IT systems. If you are developing an app for the iOS platform, then create your app with features like maps, FaceTime, camera, and location, and connect with other social media apps. The web developers can enhance the app's functionality and create interfaces for the desired user experience.
Final thoughts
Here are the 5 main factors that demonstrate how mobile app development is becoming important for your business growth and how to create a productive business utilizing your business app. As you can see, it is crucial to have a custom-built mobile app tailored to your business.
Once you go through the above-mentioned list, you're all set to dive into your mobile app development and launch your app. As long as you pick the right development platform, you'll create an app with the right partners having extensive technical knowledge and expertise about all the mobile technologies.
Are you planning to build an app with complete features having seamless integration and excellent performance? If so, then search for the top-notch mobile app development company that offers professionals and experienced developers to handle your project throughout the development process.