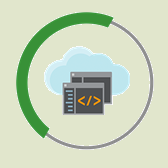 Web development usually means sitting in front of your computer, tapping on the keyboard, and lots of coffee. This is how most people describe their colleagues working in development. There is no doubt this was the case not long ago.
Today, web development has become much easier and way more fun. Websites and applications require less programming due to constant improvements. In addition, web development and design have become critical for businesses. In this digital age, a business without an online presence is likely to fail. Because of this we're seeing new web design and development companies launching every year.
Organizations offering web development services in the UAE are also getting a lot of attention. This increase is attributed to the fact that many companies are moving to the UAE or opening new offices there. Therefore, the demand for services like web development and web designing in Dubai is on the rise. Another reason for the increased demand is the government's commitment to a digital future.
There is no doubt about the importance of web design and development in today's world. Because of this, we're seeing innovations like artificial intelligence (AI). This article discusses how AI is transforming web development and a must-read for web development professionals. It will help you stay up-to-date and enable you to incorporate newer strategies and tools in development.
1.  Coding Made Easier
AI allows the automation of various tasks, enabling developers to save a lot of time and effort. AI is very useful in:
finding errors
creating code from scratch
avoiding unnecessary coding
building smarter & more secure applications
2.  Quality Assurance
AI is well suited for regression testing. For an AI model to work efficiently, it needs to be thoroughly tested on large data sets. AI can check code and make sure potential errors are flagged before an application goes live. Microsoft Security Risk Detection is one example of an AI-based QA tool. With this new technology, efficiency levels in bug detection are bound to improve.
3.  Web Design
There have been major developments in artificial design intelligence (ADI). Although the tools are not performing at the desired levels yet, the future is promising. Creating optimized applications and websites through ADI will soon become the norm. Wix and Bookmark are already making headway in this area.
4.  Harnessing the Power of Information
We think of AI making coding and designing easier and faster. AI is a lot more than just that. It also enables you to see which design is popular among the end-users. It can also suggest improvements based on end-user experience. This is achieved using a variety of tools that help designers gather real-time data from end-users. Developers no longer need to execute A/B testing, which is time-consuming and hectic.
5.  Voice Search
Today, most traffic to websites and other applications is from mobile phones. Google's SEO Algorithm is giving a higher ranking to websites which are mobile-friendly. An important part of the mobile-friendly optimization is voice searches. AI and voice search go hand in hand. Through AI, voice search software will be able to adapt to more complex conversations/queries.
6.  Chat Bot
Another important role of AI is in chatbots. Through AI, chatbots can handle user queries effectively by continuously adapting themselves to the responses of the users. This is made possible by using complex and innovative natural language processing systems. Using chatbots, organizations do not need to rely on human resources for handling routine tasks. eBay's ShopBot is one example of the immense potential of chatbots. Soon, it will be difficult to tell if you're talking to a chatbot or a human agent.
Conclusion
The future is AI. Right now, there may be issues with AI but without it, we wouldn't be enjoying many of the perks we enjoy today. AI is now deeply ingrained into our lives. For web developers and designers, AI saves a lot of time and effort. It's possible that AI will soon be used for self-improving applications, removing the need for human skills and thought.