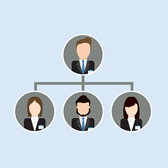 The Organization Chart is a visual representation of the organizational and hierarchical structure of a company. It illustrates the flow of authority, the roles and responsibilities of team members, and the relationship and flow of communication between members of the organization. It provides a clear and detailed reference point that is used both internally and by external customers to help identify the key figures and other relevant personalities in the organization.
The organizational design and development of these charts are based on how the company defines specific tasks and activities that can help them achieve their objectives. It not only depicts the lines of authority and division of functions, it also illustrates the flow of communication for proper manpower supervision and coordination.
Businesses have the option to design and create org charts using manual processes, building the graphical elements from scratch. In a modern world where digital technologies have advanced considerably, the design and creation of org charts have also evolved through the use of specialized org design software and advanced organizational chart solutions like Nakisa Hanelly.
With these solutions, more complex org charts like the SAP organization chart can easily be designed and developed for practical use. You can grasp an overview of these concepts and more with the following infographic – and learn how you can ramp your business success through org charts.