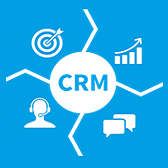 CRM means Customer Relationship Management and you can think of it as a software, a technique, or a strategy. It is also a management system used to streamline customer interaction and increase the profitability of businesses.
CRM helps companies maintain relationships with customers. Because customers play a key role in the success of a business, it is important to keep track of customer relationships and customer interaction. In doing so, clients develop trust in the company.
CRM is not limited to customer service. It can help with sales promotions and manages sales activities. Most CRM solutions can also integrate with other apps and help manage communication between teams.
Benefits of CRM
Customer-centric Service
CRM solutions manage and store information about each customer including contacts, addresses, social media accounts, and more. They offer an easy way to get customer data for any employ who has access to the CRM platform. These solutions also allow employees to sync customer data from other platforms making it easier to keep information up to date.
Tracking Options
CRMs also offer tracking options. This means they help track the interaction history of the client with the company. Other things such as documents and notes can be tracked as well. You can also create reports for tracking project status, sales, revenue, and more.
Lead Supervision and Management
CRMs help manage the lead conversion procedure, converting prospects into leads. Once prospects are uploaded, they move through a sales pipeline system. It is estimated that the lead conversion rate is more than 300% higher in companies using CRM.
Integrations
CRMs have various integration tools. They offer email integrations for Yahoo, Gmail, Outlook, and other ESPs. This helps in segmentation and managing the contact groups. CRM acts as a centralized location for cross-collaboration in the company.
Reducing Expenses and Increasing Productivity
Customer Relationship Management helps in reducing expenses. It also makes sure that no amount of the budget is wasted. The software increases the efficiency of marketing and sales. A study by Forester shows that, by using mobile-friendly CRM, 50% of companies saw an increase in their productivity.
Automation Tools
CRM helps in the automation of repetitive tasks by using time triggers or reminders for required tasks. These automation tools help in saving both the time and energy for employees. CRM offers automation solutions for marketing, sales, and customer service support. The software also increases communication between internal teams and customers.
Document Management
CRM offers document management. You can upload all relevant documents, such as contracts or purchase orders, making it easy for employees to access the information at anytime from anywhere.
Reports and Notes
CRM helps with compiling summaries and reports. Reports and notes can be created for sales, performance, customer reviews, profit, daily reports, weekly reports, monthly reports, quarterly reports, and many more. Reports can also be created for project status, team members, funnel stage, and to troubleshoot problems.
Best CRM Software for Business Growth
There are various types of CRM software. Some of them are listed below.
PeppyBiz
PeppyBiz offers pocket-friendly, inexpensive software. This is a great choice for a startup or small business but can also benefit larger companies. It offers a wide variety of marketing and sales strategies. PeppyBiz has many functions such as customer support, list management, and CRM email marketing. Their software handles customer issues, tracks their activity, and assigns automatic tickets. Other features include Kanban boards, marketing and sales hub, time-specific Gantt projects, various calendar views, files and documentation mergers, quicker chats and interactions.
Hubspot CRM
HubSpot software has free and powerful CRM, Service Hub, Sales Hub, Marketing Hub, and ticket management system. This software helps in building and sharing meeting links. HubSpot has templates for websites, blog designs, sales emails, and landing pages. Right now, their software is being used by around 68,800 customers based over 100 countries.
Pipedrive
This is a web-based sales CRM software. Pipedrive software is best for sales centric businesses. The software is used via the web, SaaS, Android, iPhone, or iPad. Some of the features include campaign management, email marketing, and tracking options and it integrates with other third-party apps. Pipedrive software offers a free trial so you can try it out before deciding to purchase a license.
Microsoft Dynamics 365
Microsoft Dynamics 365 software was developed in 2016. This software is a cloud-based software and SaaS application. It can operate in Microsoft Windows. The software integrates CRM and ERP and uses AI. Microsoft software increases productivity and boosts sales and solves problems quickly. By using this software one can reduce the risks in their company.
Zoho Desk
Zoho Desk software is one of the best CRM software for small businesses. This software gives a large variety of solutions and procedures for small business. Zoho Desk software is used by more than 50 million customers. With the help of the software, you can manage tickets from different channels and departments like emails, phone calls, social media, chatbox, and live chat. Zoho Desk software has great AI which includes Ask Zia, Zia Dashboard, Sentiment Analysis, Zia Notifications, Zia Voice, Reply Assistant, and Zia Skill Builder.
Insightly
Insightly software is compatible with all types of companies and industries. This software is easy to use and has simple and powerful CRM tools. Some of the features are email marketing, lead scoring, quotes, and segmentation. It is in use by more than 1.5 million users. The software provides integration tools with third-party apps. Other features are customer tracking, managing contacts, and converting leads. Insightly offers both a free trial and a free app version.
Bitrix24
Bitrix24 is another great CRM solution. This software is available in different editions, such as mobile, cloud, and open source. It is in use by more than 4 million businesses. One of the best features is this software is free of cost for small business teams with 12 employees or less. They offer software that is easy to use, organizes data, and it has one of the best chatting features.
SalesForce
Salesforce CRM software has been around for a long time and it is cloud-based. This software is best for large industries, enterprises, but can also be used by small businesses. Some of the features are powerful automation tools, list and contact management, and sales forecasting. Salesforce software increases productivity through features such as Milestone Tracking, Email-to-case, Multichannel, and Macros. It offers strong collaboration tools and integrates with third-party apps.
Keap
This software is best for small businesses. Out of all the software, Keap is the easiest to use. It has powerful marketing and sales automation tools. The software also offers dashboards to track the process of sales performance. Some of the features are invoices, time triggers, one-click quotes, and reporting. It also gives integration tools for third-party apps. Keap software also offers a free trial.
Conclusion
We've detailed why CRM is important above. It has various strategies, tricks, and techniques to manage and improve the interaction with customer. By using CRM, the companies can benefit from an increase in customers, a boost in sales revenue, and increased productivity.
Author Bio:
Sara Williams -Sara is a Content Writer at PeppyBiz. She is not only a creative writer but also paints a beautiful canvas. She makes sure that you are left with no doubt about keeping up with marketing and sales.