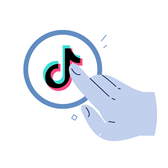 TikTok is one of the most popular social media platforms for users and brands. With the most popular forms of content being comedy, tutorials, dancing, and lip-syncing, TikTok allows you to optimize your videos to make them more discoverable. This article will discuss the benefits of using TikTok for businesses and how to do it.
Benefits of TikTok Marketing
With TikTok, anyone can go viral, and its popularity continues to grow every day, which is why more and more companies are considering using it for marketing. Here's why your brand should have a TikTok marketing strategy.
Ideal for Cross-Platform Marketing
TikTok can fit into your digital marketing strategy seamlessly. Whether you use Facebook, podcasts, and even Google for your marketing and advertising, you can also utilize TikTok to increase brand awareness no matter where your audience is and what they're doing. TikTok is ideal for both B2B demand generation and B2C or D2C businesses who want to sell products online.
Ease of Use
TikTok's audience is predominantly young people, allowing you to engage the younger generations of adults. TikTok's business platform offers advertisers the ability to easily create marketing campaigns, including setting an ad budget, creating an ad, targeting your audience, and measuring your campaign's impact. In addition, TikTok allows you to do everything you need to do for a marketing campaign without leaving the platform, helping brands test their content and find out what resonates best with their audiences.
Wide Range of Ad Types
TikTok offers different ads for brands to choose from, allowing you to create ads regardless of your marketing goals and KPIs. With TikTok, you can develop challenges for users and invite them to participate, which can help you generate more brand awareness. In addition, TikTok offers truly unique ad types that no other social media channel does, including brand takeovers that can put small businesses on the map and in front of more buyers than ever before.
Improve Influencer Marketing
If you've been using Instagram for influencer marketing, you already know how this digital marketing strategy works. However, TikTok is known for videos, while Instagram is known for photos. With TikTok, you can reach influencers with highly engaged audiences to help promote your brand.
Simplified Content Creation
If you're not a skilled videographer, you may think creating content is difficult. However, TikTok allows you to create content easily, so you don't need any professional skills to make beautiful marketing videos that attract customers. You can also use video editors to help you design videos specifically for TikTok.
Elevated Video Marketing
Video is a great way to help engage your target audience to drive more traffic to your website and increase conversions. While other social media platforms like Facebook and Instagram thrive on visual content, no social media platform takes advantage of videos like TikTok does. Of course, you can upload videos on just about any social media platform, but TikTok only allows videos, which means you won't see any still photos on the platform at all. Because TikTok forces you to continuously flex your creative muscles and make videos that attract customers, you'll be able to start leveraging video across all your marketing channels, including your website.
Community Building
One of the best ways to engage customers while finding loyal customers is to build a community. Building a community can help your business thrive and create a solid online presence. You can connect and communicate with your audience to learn about their opinions and encourage them to engage with your brand and content. Because TikTok goes beyond the standard social media options of comments, likes, and shares, you can start to learn more about your audience to find new easy to market to them.
Organic Reach
While it's recommended to advertise on TikTok to increase your reach, TikTok has a brand-friendly algorithm. Videos of all kinds can get hundreds, if not thousands of views organically. You may have heard that Facebook changed its algorithm to make it harder for brands to reach more customers organically. If your business was on Facebook at that time, you noticed a drastic drop in likes, shares, and comments because it's now harder for brands to reach people organically.
On the other hand, TikTok makes it easy for brands to get in front of their customers. With endless scrolling, videos can gain more exposure, making going through content easier. Additionally, the content you upload can be shown to thousands of TikTok users to help expose them to your brand.
TikTok offers better organic reach than most other social media platforms, so it's a great place to gain exposure without spending any money on advertising.
Using TikTok for Marketing
TikTok is a great social media platform that can help brands connect with their customers, but you should learn a few basics before you get started. Here's how to use TikTok for marketing.
Create Good Content
TikTok is all about quality content, so it's important to post quality content consistently. Uploading any video won't help you achieve your goals, so it's essential to invest in a strategy that can help you reach more customers. You can also create content based on current trends and challenges on TikTok to help you get in on the action.
Create Ads
Another great way to get in front of your potential customers is to extend your reach through advertising. Sponsoring your videos can help you increase brand awareness and engagement, and TikTok advertising is cost-effective. However, as we've mentioned, there are a few different ad formats you can use on TikTok, so it might take some experimenting to find out which types of ads and which videos perform best before you start investing more money.
Work With Influencers
Influencer marketing is a popular digital marketing strategy that can help you leverage their audience. They are known thought leaders in their communities, and their audience typically trusts their opinions more than what brands have to say about their products. Since TikTok is an excellent place for finding influencers relevant to your brand, you can begin with a quick hashtag search.
TikTok Marketing for Brands
TikTok is a cost-effective marketing strategy that can help your brand get in front of thousands, if not hundreds of thousands of people, who might be interested in your brand. But, of course, your strategy is only as good as your content. If you're not sure where to start, consider getting a personal TikTok and see what other brands are doing so you can start creating your very own strategy.
Author Bio
Matt Casadona has a Bachelor of Science in Business Administration, with a concentration in Marketing and a minor in Psychology. Matt is passionate about marketing and business strategy and enjoys San Diego life, traveling, and music.