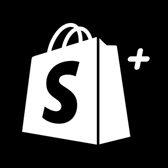 While every business hopes they achieve enough success to grow and earn more revenue, scaling can be difficult. Expanding the staff and product lines, fulfilling high-volume orders, and tending to the needs of more customers is a balancing act. Some businesses struggle to maintain a high level of customer service as they grow.
Furthermore, expanding into international markets increases these demands a thousand-fold, due to the challenges of international shipping and storefronts. Without the right tools and systems in place, businesses may struggle to maintain multiple storefronts and target marketing and products to specific markets.
Shopify Plus has tools for just these challenges. Designed with enterprise-level businesses in mind, Shopify Plus has features and integrations to help businesses scale successfully. Additionally, it has multiple international storefronts, wholesale stores, and a customizable checkout.
What is Shopify Plus?
Shopify Plus is the ecommerce platform's top-tier plan and includes all the features of other Shopify plans, as well as exclusive features and support options for Shopify Plus customers. Shopify Plus features include:
International Storefronts
Expanding internationally gives businesses access to new markets and customers for incredible growth, but getting setup is difficult and intimidating. International markets require storefronts tailored to the local currency, language, and culture, which adds a lot of time to management.
Shopify Plus streamlines this process by offering up to 10 store variants for different countries, all managed from one centralized hub. Each store can be customized to manage specific inventory, handle orders, or run location-based promotions or campaigns.
Customizable Checkout Page
The checkout experience is a valuable part of the customer user experience (UX). One of Shopify Plus's most unique and beneficial features is the customizable checkout page. You can adjust the number of clicks to complete checkout and set triggers for promotions or discounts based on cart value or order threshold. It even allows you to prioritize VIP customers.
Shopify Plus's checkout is also 60 percent faster than a standard checkout, meaning that more customers can check out faster. During high-volume sales periods, that can translate to a lot more sales and more revenue.
You can customize the Shopify Plus checkout page yourself, using tools like:
Scripts and Scripts Editor: These tools allow you to trigger promotions and discounts based on cart conditions that you can customize yourself.
Customer Customization: This tool allows you to show appreciation for your valued customers with incentives, promotions, and discounts based on unique criteria.
High-Volume Sales
During busy sales periods like Christmas and Black Friday, businesses often face site lag or crashing that costs them valuable sales. Scaling makes it even worse, since you're processing a higher volume of orders, and customers end up frustrated.
Shopify Plus is built to handle high-volume transactions – up to 10,000 transactions per minute. This ensures your business is ready for the traffic and sales during the busiest sales times of the year.
Integration
Shopify Plus integrates with many systems that are vital to a growing business. Without integration, businesses may need to take on more background processes and tasks that take time from focusing on the business itself.
Shopify Plus integrations help businesses by connecting to systems like:
Inventory management
Order management
Warehouse management
Enterprise resource planning
Third-party logistics
If the system you use isn't part of Shopify Plus integrations, Shopify partners with leading technology companies for solutions or tools to help.
Wholesale Capabilities
Scaling may include expanding into the wholesale or B2B ecommerce space, which can create more revenue AND more work. Maintaining a wholesale channel is like managing another store, complete with its processes, logistics, and day-to-day operations.
Shopify Plus is designed to allow businesses to run both B2C and B2B operations from the same dashboard, making it easy to handle the workload. The automation features can be applied to wholesale as well.
With the wholesale channel, customers get a login to enter the store and access wholesale-only products and pricing. You can add features for customers like order volume thresholds, volume discounts, and tiered pricing levels.
Multi-Channel Integration
Consumers are accustomed to shopping on any channel or device at any time, so Shopify Plus offers multi-channel integration with social media platforms and native social selling. All integration channels are managed from the same dashboard, helping you monitor all your sales and fulfillment from any channel.
Security
Security breaches are a major concern in an increasingly online and mobile world. Customers' sensitive information is at a greater risk than ever, and it's up to the business to keep it safe. You need data to understand your customers and your business, but you also need to have measures in place for protection.
Shopify Plus helps with security by using hosting and protection in compliance with Level 1 PCI DSS – the best option for online payment security. All customer and payment information is encrypted and protected throughout the entire shopping experience. This is displayed on the site, so customers can feel safe and comfortable shopping. Shopify Plus also handles the assessments and risk management for the store, so you can focus on other aspects of the operation.
Making the Move to Shopify Plus
While there's nothing stopping any business from upgrading to Shopify Plus, it does come with a high cost and a lot of features that may be overkill for a small or startup business. Shopify Plus is intended for enterprise-level businesses that are already making high-volume sales and looking to boost growth with tools for automation.
Shopify Plus is the best option for businesses that are ready to grow or expand into new markets and are outgrowing their current Shopify plan – ideally, one of the higher-tier plans.
Shopify Plus experts recommend making the switch to Shopify Plus when you reach $1 million in revenue annually, or $85,000 per month. The monthly fee for Shopify Plus starts at $2,000, so it's important to upgrade when the benefits can offset the higher costs.
Note that $2,000 is the starting monthly cost for Shopify Plus. You must request a quote from Shopify to learn your actual monthly costs and determine if it's worth it for the extra benefits and features.
Ready to Upgrade?
Shopify Plus is one of the most-equipped and streamlined ecommerce platforms for enterprise-level businesses. If you're looking to grow or expand into adjacent, international, or wholesale markets, the features are beneficial for streamlining, automating, and customizing the storefront and providing a stellar customer experience.
Author the Author
Sean Richards is the VP of Strategy & Partnerships for Vincit. Prior to Vincit, Richards provided business development, digital marketing strategy and partnership development at several reputable companies and marketing agencies in both California and Arizona. He holds a bachelor's degree in Design Management from Arizona State University.