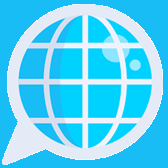 The global pandemic continues to push more and more users online. And, although great news for your web traffic, it could forge a barrier between your site and new readers if you're not properly prepared – especially if you're not creating content in your new visitor's native language.
If your site isn't available in as many languages as demand requires, a quick-to-judge browser could blacklist you, ruining any chance of a conversion.
It raises the question… how do you maximize conversions through website translation? Let's unpack that below.
Tap into your web analytics
Translating every inch of your site into every single language may seem like the fail safe solution, but you can be more structured and tactical in your approach. Here's a handy bit of trivia, the most translated website in the world, jw.org, is available in a staggering 1,009 languages.
That might sound impressive, but it's not the right approach. Neither is keeping your website in English alone. According to tech.co, 70% of the world doesn't speak English, yet 57% of websites are only available in English. Yikes!
What should you do instead of this all-or-nothing approach?
Take the time to analyze your web traffic! See where your website users are from, in what numbers they land on your website and which parts of your website they're using. From here, you can prioritize the languages that are most common among your users and only translate the pages or products that they frequently use.
If you run an eCommerce site and regularly see traffic from a country whose language you don't support, take the hint… translate the products people want to see into their native tongue and watch those conversions rise.
Set up web domains for each language you choose
Using a relevant country URL for each translated version of your website is important for two reasons:
It will be easier for new foreign customers to find your site
It'll boost each site's SEO
More than half of all Google searches are not in English and you want searchers to trust the result they see in the SERPs. If someone is used to seeing .fr because they're purchasing from France, then they might not trust a site that ends in .co.uk. They also might think the site won't be in their language or ship to their location.
Ensure your content is localized
Localization is the act of capturing nuance in your copy, images, and structure. Studies from the Common Sense Advisory show that people with no or low proficiency in English are six times more likely to not buy from English-only sites.
Ensure your translation efforts stretch out onto any associated images. By localizing all of your content and not just the words that accompany culturally irrelevant images, you'll grab the attention of a wider range of users.
Consider your goals
What do you want to achieve from translating your website? Is it a sale, a new business lead, or just a Like? Defining your key performance indicators (KPIs) is critical to assessing the success of any change and that includes translating your website.
You should already have a handle on what a 'good' day looks like for your site. Work out what could make it better and then look at them again 1-3 months after your first website translation. Do you want to grow sales in Spain? First, check your metric, then translate your site and then check the metric again.
Look at the insights available through your website builder or CMS to see what's working and driving traffic – then, do more of that.
Check your competitors
Look at your competitors. Have they recently rolled out a new language? Are they pushing out marketing schemes to that demographic and are they performing well?
If your business offers something similar, you could win big by emulating their success. Keep an ear to the ground and adapt your translation road map depending on the success of others. By closely monitoring your own insights and analytics, you can effectively deploy changes that can have a huge effect on your web conversions.
How many languages are too many languages?
The answer isn't finite. It's unique to your website and the demand of your customers or website visitors.
What really sets translations apart, more than the quantity of languages catered for, is the quality. Not all translations are created equal and if a potential lead is reading messy or confusing copy with incorrect grammar or irrelevant idioms, it'll harm your brand's authority.
Invest your efforts in human translators with long-standing cultural knowledge who can translate your copy in a culturally correct way while remaining on-brand. Use tools like focus groups to ensure the translation works before you publish them on your website.
The final word
Follow these six tips and you could open up your site up to a whole new audience (or several). Translate your website the right way and you'll increase your brand's authority and gain new customers and, ultimately, boost those online conversions.
Author bio: I'm Lucy Farrington-Smith, a 27-year-old freelance writer. I started out as an actor before I put the scripts down and chose to write my own words instead of saying someone else's. One Master's in Creative Writing and many coffee cups later; you can now find my bylines on HuffPost, Metro.co.uk and my own website www.lucywrites.co.